Two friends tapped into their native roots to launch Big Sur Canna Botanicals.
When Aram Stoney and John DeFloria teamed up to open Big Sur Canna Botanicals, neither had a background in retail. What they did have was experience as hobby growers and a desire to put their community roots to work helping locals achieve health and wellbeing.
At the time the idea saw its genesis, Stoney, 45, worked as a valet for Inn of the Spanish Bay at Pebble Beach.  Everything changed when his wife showed him a magazine article about the "green rush" in Colorado.
"It really struck a nerve," Stoney said. "I took a closer look at what was happening with dispensaries in my own backyard, and there were only half a dozen delivery services in the area. I called up John [DeFloria], who has spent many years cultivating in Big Sur, and convinced him to come along for the ride."
At the time, DeFloria worked for a plumbing contractor to support his family in Carmel Valley. "I had been growing medical cannabis with my Proposition 215 card on private property in Big Sur and Carmel Valley since 1996," he said.
He briefly toyed with the idea of moving to Humboldt County or Mendocino County—both hubs for cannabis farms—to grow full-time but felt such a big change would be too risky for his family. However, having grown up in the area, DeFloria believed the large agricultural infrastructure, along with residents' discerning taste in cannabis, was ready for a weed service business—if done right. Research showed a large increase in the number of medical cannabis delivery services from Santa Cruz that advertised in the Big Sur area, which led DeFloria to the conclusion a medical marijuana collective was overdue. So, he and Stoney put one together.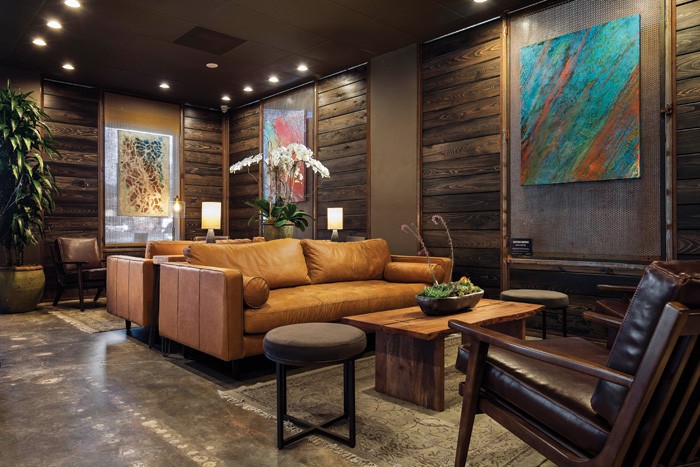 Ironically, not long after the collective's delivery service debuted, the City of Carmel-by-the-Sea enacted a moratorium on cannabis businesses. A bit of good luck and a lot of determination earned the collective an exemption to operate as a previously existing, non-conforming dispensary and grow.
"That eventually led to opening our retail operations," DeFloria said.
He admits none of the company's success would have been possible had he and Stoney not been "local boys" with a community-focused agenda.
"We were some of the first local cultivators to emerge as a legal business entity and also as industry spokespersons, dedicated to education and representing our county's growers and local cannabis industry," he said.
The partners quickly became visible public advocates and joined several local associations such as the Coastal Growers Association and the Salinas Farm Bureau. One serves on the board of Monterey County Cannabis Industry Association.
"We believe we have several great appellations here and are excited to see cannabis producers and distributors take their place alongside vineyards, wineries, and other agricultural pursuits in the county," DeFloria said.
When it came to designing the shop, they went with a nod to the rugged, earthy beauty of Big Sur mixed with the artsy modernism of Carmel. "We wanted it to feel like an art gallery or spa," said Stoney. "And we wanted to start with a waiting room that you actually wanted to wait in."
First they scraped the paint off the concrete floors, creating a polished foundation. Plush leather couches and chairs offer a view out three huge bay windows that frame the redwoods and sea. Wood-plank walls and washes of soft gray create a soothing effect. Outside the bud room, a gargantuan mural of the Bixby Bridge, the iconic gateway to Big Sur, adorns a wall. The handsome reception desk is a twelve-foot by three-and-one-half-foot slab of bay laurel wood from the Santa Cruz mountains, and paintings by local artist Paul Seftel add a bit of urban sophistication.
On an average day, sixteen employees serve more than 170 customers with a menu that includes sought-after flower like Super Lemon Haze along with harder-to-find Forbidden Fruit, Blueberry Haze, and Pink Lemonade. The extract section offers exotic CBD formulations and a curated selection of teas, mints, edibles, topicals, and pre-rolls. Gear rounds out the offerings. When California legalized recreational use in January, Stoney and DeFloria decided the local cannabis community would be best served by a dispensary that offered both medical and adult-use products. Big Sur Canna Botanicals now holds both kinds of licenses. "Going from a medical market that only allowed us to cater to residents with a doctor's recommendation to being able to welcome all visitors 21 and over has been great," said DeFloria. Stoney added, "It's amazing how many people just didn't want to talk to their doctors or were afraid of being on a 'list.'"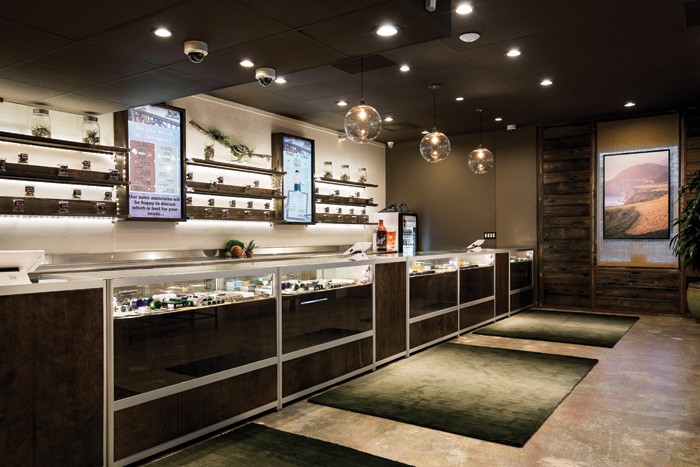 Local consumers' wariness of cannabis stigma and storied desire for personal privacy influenced the dispensary's marketing tactics, as well. DeFloria and Stoney developed an instinctual, organic approach, relying mostly on referrals and word of mouth. They also sponsor local events, including the Monterey Beer Festival and the Hospice Symposium. In addition, they reach out to the community through their weekly "Canna Conversation" show on local radio station KRML 102.1. Every Friday at 4:20 p.m., Stoney and DeFloria broadcast cannabis news, education, and information and chat with guests. The pair believe the radio show contributed to Big Sur Canna Botanicals' recent win in the "Best New Business" category of the 2018 Monterey County Weekly Readers Poll.
"To me [the award] was a good indicator of not only the great job we are doing, but [also] how accepting the community is of what we stand for," DeFloria said of besting mainstream competitors for the title.
The marketing plan has worked well so far, DeFloria said, but only three other licensed dispensaries currently operate in the area. At least a dozen more are preparing to open, Stoney noted, so the dispensary may have to up its game.
That's not the only challenge facing Big Sur Canna Botanicals. Navigating the inevitable ebb and flow of state and local regulations, laws, and ordinance changes has been burdensome and time-consuming. Nevertheless, the founders persevere, maintaining compliance and relevance in the rapidly changing environment.
But what really occupies their minds late at night is maintaining the soul of the plant while operating a successful business. For conquering that kind of mountain, Stoney offered one piece of advice: "If you're not ready to put your heart and soul into what you are doing and you expect everyone else to do it for you, then don't bother."