Former Aflac executive Gary Lowe is betting big on the marriage of emu oil and CBD—and an all-star in-house sales staff.
Cannariginals started inauspiciously a few years ago: Gary Lowe left his corporate job and began growing CBD as a hobby. He attended a few early industry trade shows and was astounded: infused products, specifically topicals, was a soft area of the marketplace. Lowe saw a revolutionary product in his head. "My father used to raise emus nearly thrity years ago, and I knew the oil derived from them was very special," Lowe noted.  "So, my family and I elected to take a run at infused products featuring emu oil as our delivery vector of choice."
EMU OIL & CBD
As a natural anti-inflammatory and pain reducer, emu oil is a nearly perfect way to deliver cannabinoids deep into the skin's layers. The oil's transdermal nature allows it to migrate past the skin and into the soft tissues below, thereby delivering CBD to pain and inflammation.
Lowe felt he had married the right products for effectiveness, but he knew nothing about the cannabis industry. However, he knew how to put a sales force together.
"We are now in over 500 dispensaries in California," he said. "We distribute through a team of reps that, for the most part, represent Cannariginals exclusively. Our son, Allen, is a key part of the business and has spent countless hours working with the team, providing training and support as we grow."
Just a week or so after the first delivery of Gold Medicated 420 Emu Oil to a dispensary north of Los Angeles, the feedback came in: This stuff works. Can we get more?
"We have seen triple-digit increases in sales year-on-year," Lowe said. "We anticipate our real growth is yet to come. We have been working with alternate markets and feel we have identified previously untapped avenues of potential revenue—and relief."
Case in point: A 10-year-old boy in Southern California who suffered from a rare condition that causes his skin to blister and slough off tried Emu 420 Essentials Gold Rub. His mother was amazed at what happened next. In a heartfelt email, she told Lowe that "for the first time since he was born, he went to sleep without screaming in pain and shaking as if in seizure due to the pain."
Rowe reported the boy has been using Cannariginals products for more than a year now, and the family told Lowe "the products have changed the direction of his condition."
So far, Cannariginals products have proven effective, and people in the community have long memories on what works and what does not. Sales reflect that. "Consistency, consistency, consistency," Lowe said mantra-like.
Our specialty is making you feel better.  But it's still a numbers game.  Hit your numbers daily, and weekly results will show.  Oh, and pay your taxes."  -Gary Lowe, Co-Founder, Cannariginals
#MAKEADIFFERENCE
Lowe's unique product, combined with his vast experience in sales and, well, timing, came together in a cannabis business success story. However, at the heart of the business is a strong "make a difference" ethos. The company's 420 Gold Rub has done that. "It's our top seller," Lowe said. It has mass appeal. Everybody likes to feel good, right? That is our specialty: making you feel better."
Feeling good and the numbers add up. Lowe is in an enviable position. "I can see us running this thing for the next decade," he said. "It really is a good time for all of us to be in this industry and to make a difference. But it's stills a numbers game. Hit your numbers daily, and weekly results will show. Oh, and pay your taxes."
THE 3 REASONS FOR CANNARIGINALS SUCCESS ARE…
Lowe's experience in sales, both as a financial services representative and as an Army recruiter, helped in organizing the business.  
Confidence and belief in Cannariginals products, supported by the company's early experience with patients, helped fuel the company's growth.  
The sales team has developed strong relationships with collective operators and budtenders who are the absolute front line for patient communication. "Our team of reps are constantly involved in patient appreciation days, seshes, and other events in the community."
THE THREE PRODUCT LINES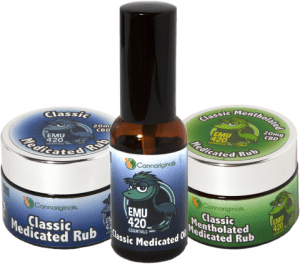 Classic medicated line (pictured above): delivers 20mg CBD in a base of 100-percent pure Grade A emu oil.
Gold medicated line: uses a patented formula that provides nearly 50 percent more anti-inflammatory properties than Grade A emu oil. The oil is mixed with 50mg of CBD for maximum effectiveness.
Mystic Mango Medicated Elixir: employs a light taste of mango and a sublingual carrier to deliver a high dose of CBD in a powerful anti-inflammatory base, providing internal relief across a wide variety of conditions.
For wholesale orders: Cannariginals.com
FAST FACT:
The emu, a flightless bird, is second in height to its relative, the ostrich. Emu oil is taken from the bird's fat during processing. The oil has been used in Australia as medicine, skin lubricant, and wellness facilitator for hundreds of years.