As Manhattan's first medical dispensary, Columbia Care NYC is A-number-1 under the leadership of former Goldman Sachs executive Nicholas Vita.
Headed by former Goldman Sachs investment banker Nicholas Vita, Columbia Care is a company to watch. The company operates eight medical dispensaries in six states and in October 2016 introduced the world's first solid-fill, controlled-dose cannabinoid capsules in its New York dispensaries. Columbia Care intends to expand distribution to other states in 2017.
Columbia Care NYC was the first medical marijuana dispensary to open in the state: in January 2016 in New York City. Now, the company also operates locations in Riverhead, Plattsburgh, and Rochester. Vita faced many challenges, including finding the right people for the team, avoiding the "green-rush charlatans" looking for a quick-buck, and differentiating between medical and recreational businesses. And the competition was steep. In New York State, forty-three companies from across the U.S. applied for only five state licenses. Each license allows the operation of one manufacturing facility and four dispensaries, all of which be located in the state. However, according to Vita, things have progressed smoothly.
"New York City has been welcoming in every respect, and it is a great privilege to be part of such a thriving community," said Vita. "We are grateful to be open in each of our markets, but in New York City in particular we are regularly exposed to people from all over the world who are intrigued and interested in learning more about the industry and company."
The idea
"Columbia Care was founded to improve people's lives and the communities we serve by developing and validating the highest-quality medical marijuana applications and products," Vita said. "We are dedicated to serving patients in an environment and manner that would satisfy our own family members and loved ones if they needed access to this type of medicine to treat an illness."
Design
"Our facilities are thoughtfully designed to be a comfortable and safe environment where patients can feel at ease," said Vita. "Upon entering, patients are welcomed into a waiting area until their appointment. They then have the opportunity to meet privately with our pharmacy staff in a consultation room. In all of our facilities, our teams are trained to provide the absolute highest level of professionalism and respect."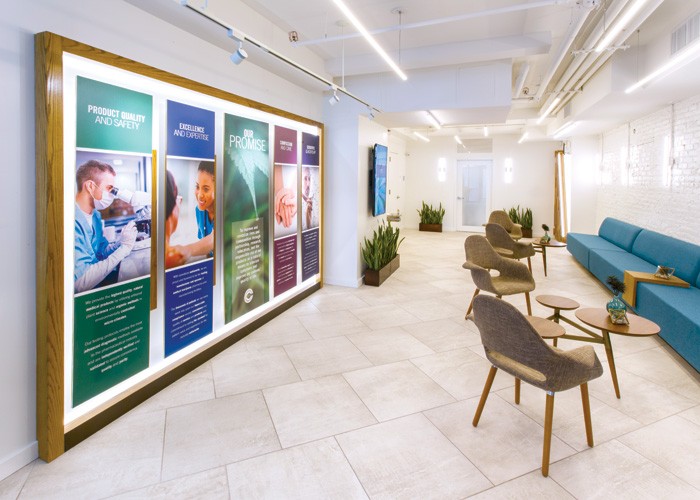 Architect
RPG, in partnership with local architecture firms.
Budtender requirements
"We lo
ok for compassionate, enthusiastic, detail-oriented individuals who take their role seriously and understand the privilege of serving others while building relationships with our patients and supporting our community of members," Vita said. "In New York, patients work with state-licensed and highly trained pharmacists who are always on site to answer questions and coordinate treatment plans with each patient's licensed prescriber. At Columbia Care, we use the term 'pharmacist' rather than budtender, as it better embodies our mission, which is solely medical."
Number of employees
"We currently employ fewer than fifty employees in New York State, with many more in the other markets where we operate," said Vita. "We offer a number of perks, including employee discounts for registered patients who are also employees, insurance coverage—medical, vision, dental—training opportunities in multiple markets and roles, subsidies to pay for professional and academic education, and paid time off.  We also hope to introduce an employee stock ownership plan in the next twenty-four months."
Average numbers of patients per day
Eighty to 100 in New York.
Sales growth
"Our business grows about 5 percent to 15 percent top line month-over-month depending upon the market. Managing this sort of growth is a challenge that forces us to remain nimble, circumspect, and acutely aware of our company in a way that most fully integrated manufacturing and distribution companies are never required to consider," said Vita.
---
Columbia Care
212 E 14th Street
New York, NY 10003
(646) 453-7178
---