The laid-back vibe of Southern California and the mountain chic culture of Colorado may still dominate the perception of cannabis, but that seems to be rapidly changing. Now, the famed literary culture of New England, which has produced some of the most notable American novelists, could soon be just as relevant in shaping the cannabis scene.
Canna Provisions, located in Lee, a small Massachusetts town in Berkshire County, embodies the spirit of the local community, a goal of both Chief Operating Officer Erik Williams and Chief Executive Officer Meg Sanders. "Our vision for Canna Provisions in Lee is very Berkshire specific," Williams told mg. "We designed our retail location to be an aesthetic reflection of the surrounding community, while at the same time elevating the dispensary experience to ensure customers enjoy a uniquely tailored experience from start to finish."
Drawing on their combined backgrounds in retail and politics, Sanders and Williams were well-qualified to deliver the unique experience they envisioned.
On the retail side, Sanders has many years of experience, with more than a decade in cannabis. "In 2010," she said. "I opened Mindful, one of Colorado's first medical cannabis dispensaries, and was later appointed by the state's governor to assist officials in developing retail cannabis regulations after the historic 2012 voter approval of adult-use cannabis."
Williams, like Sanders, also brought extensive experience to the cannabis industry, albeit in policy and government. "I've advised startups and government agencies about all levels of business, including operations, cultivation, and compliance," he said. "As executive director of the Connecticut chapter of the National Organization for the Reform of Marijuana Laws (NORML), I assisted state officials with the development of regulations for the state's medical cannabis program and dispensaries."
Community conscious design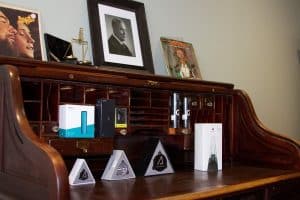 When planning Canna Provisions, Sanders and Williams focused on connecting the traditions of the Berkshires with the modern appeal of cannabis. "Since antiques are a big part of the culture [in the Berkshires], we sourced much of our furniture and decor from antique shops in the area," said Williams. "Our interior design also emphasizes the adventurous, outdoorsy nature of this area, making for a unique experience perfectly suited to the ethos and spirit of this place."
"We see our store as a thoughtfully designed stage and our employees as the players," added Sanders. "Everything from our employees' uniforms to their name tags fit into our holistic vision, designed to welcome customers and put them at ease."
While the overall design is aesthetically pleasing and blends in with the surrounding community, it's the shop's custom layout that perfects the atmosphere. The showroom is set up with several individual kiosks, rather than a single sales counter. "This way, our employee guides can stand side-by-side with customers to explain the products and educate consumers with interactive materials on the tablets at every station," Sanders said. The layout is also useful to avoid congestion in a single area and alleviate the chances of long lines.
Another design element that makes Canna Provisions stand out, especially if there are a high number of customers waiting to enter the shop, is the environmental controls added to increase comfort. "We have gone to great lengths to ensure that customers are comfortable inside and outside our retail location—by installing outdoor misters, umbrellas, heaters, and the like," Sanders said. Since Massachusetts requires all products sold in cannabis dispensaries to be pre-packaged, the temperature and humidity-controlled environment also ensures products will be just as comfortable as the customers. "The outside weather isn't really a factor in terms of product storage," Sanders added.
Personable service
Unlike many shops, Canna Provisions does not feature a waiting room designed to showcase high-definition televisions, video games, or prominent cannabis imagery. "We've designed our experience differently than many other dispensaries where you're buzzed into the showroom from a waiting area," said Williams. If things are operating smoothly, customers may not spend any time at all waiting around. "At Canna Provisions, our guides come out to greet you before you even walk into the store."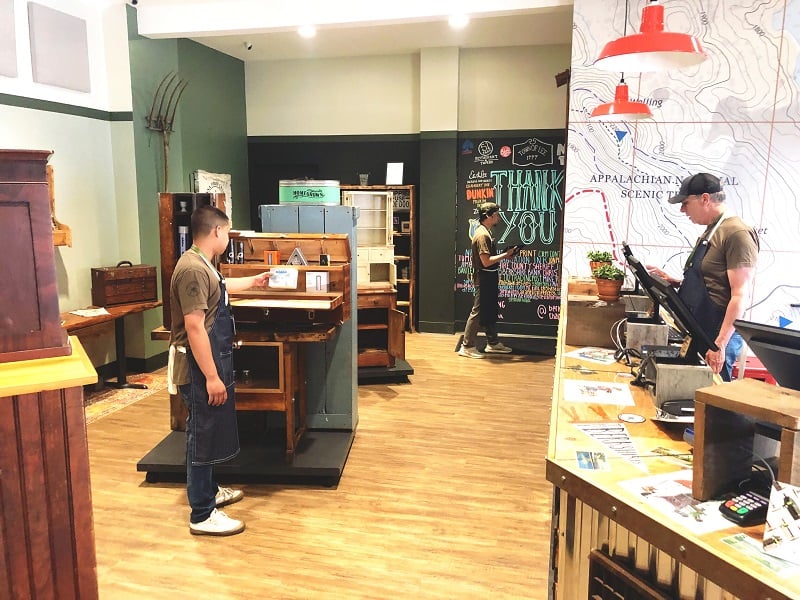 For some, especially in Massachusetts where the cannabis culture is relatively new and may be a bit intimidating, ensuring customers feel comfortable right away is crucial to creating a positive and memorable experience. "We're meeting customers right at the trailhead and saying, 'I will be your guide today,'" Williams said.
While most dispensary operators would welcome additional space, members of the cannabis industry know that it's important to play the hand you are dealt. With all their experience and ideas, Sanders and Williams have big plans, but they'll have to work with what they have for now, which will likely turn out just fine for the retail and cannabis veterans. "We would have loved to make the store bigger, but we made the most of the space we have, in terms of design aesthetic and customer experience," said Williams.
The limited space is not stopping Sanders and Williams from conceiving of other ways to utilize the property at Canna Provisions. They already were attracted by the Berkshires reputation as a tourist destination, and they have plans to eventually use the space at Canna Provisions to capitalize on that.
"We feel that canna-tourism is a natural fit in a tourist area like the Berkshires," said Sanders. "We would love to see tasting rooms and social consumption as part of the sensory experience. We'd also love to integrate secure, private showing rooms to provide a concierge experience for groups and parties."