Amy Andrle opens up about selling top-quality cannabis, finding the right employees, and year-over-year growth at L'Eagle.
Amy Andrle is Excited. As a founding member of the Cannabis Cultivation Council (CCC), she's just begun preparing for the organization's second annual Cannabis Sustainability Symposium in October.
Andrle's dispensary, L'Eagle in Denver, Colorado, is renowned for its clean, powerful, and top-tier flower. Business has grown 30 per cent since the shop's launch in 2010, thanks to popular strains like L'Eagle Eagle, known for its flavor and engaging characteristics ("artistic, talkative"), Bruce Banner #5 ("very upbeat, energetic"), and GS Cookies ("intensely flavorful"). L'Eagle sells only what they grow and currently cultivates more than seventy different strains.
"We're all about quality, spacing, and never cutting corners," said Anderle, who founded L'Eagle with her husband, John. "At L'Eagle, our nutrients are derived from high-quality, food-grade minerals and mineral acids, then blended with organic and inorganic compounds to create a fully balanced plant food that is rich with a high rate of bioavailability."
L'Eagle also subscribes to a rigorous integrated pest management system rooted in non-synthetic pesticides and clean cultural practices. "We have created low-stress environments, we sterilize all areas between batches, and we never treat late flower. L'Eagle believes healthy plants are still the best defense against pests and disease, and our treatments include organic OMRI-certified oils, bio-fungicides and bio-insecticides, bactericides, and beneficial insects.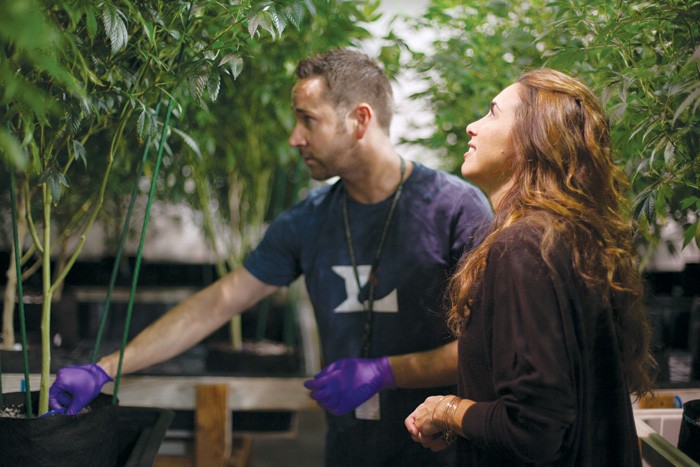 CLEARLY, YOU HAVE A PASSION FOR CANNABIS. HOW DID THIS COME ABOUT?
I've always been an advocate for ending marijuana prohibition, both from a health and human services standpoint and from an adult-use angle, not to mention the ripple effects of legalization as it relates to incarceration rates and drug trafficking. Cannabis is an alternative to toxic pharmaceuticals and addictive narcotics. When I have a friend or family member who is sick, it feels good to be able to offer them a choice and teach them about alternative treatments.
YOU OPENED L'EAGLE ALMOST EIGHT YEARS AGO. HOW'S BUSINESS?
We've been averaging 30 percent year over-year growth and now have thirty full-time employees and ten part-time. We are a mission-driven team. We lift each other up and take care of one an other. We seek longevity in our employees, and our business does everything it can to keep them satisfied.
HOW DO YOU FIND GOOD EMPLOYEES?
We put listings out with a unique call to action: We're not looking for budtenders; we're looking for people who want to make a career in the space. When it comes to our cultivation team, we hire employees who have degrees in agriculture and environmental sciences. We invest a lot of time and energy into our staff, because we want them to grow with us. We want our staff to feel good about having a future at L'Eagle and to get engaged with the brand.
Did You Know?
L'Eagle does not treat plants after the first three weeks of flowering and long-cures for a minimum of sixty days in a temperature-controlled sixty-six degrees airtight container in complete darkness.
Amy's Tips for a Healthy Business
Don't cut corners, whether in quality, sustainability, or health standards
Take Care of employees.
Do Right By Customers, and they will reward you with loyalty.
YOUR FLOWER HAS A STELLAR REPUTATION.
In an effort to ensure our clients have access to safe, clean, long-cured cannabis, we only sell flower we cultivate ourselves. Overall, the onset of standalone cultivation facilities and the elimination of vertical integration in Colorado has altered the landscape of the wholesale market and shifted the pricing. However, product differentiation is starting to occur, and customers now recognize there can be an enormous a difference between one Blue Dream and another.
WHAT DOES "ORGANIC" MEAN TO YOU?
L'Eagle uses the term "clean cannabis" because of the federal regulations and restrictions around labeling one's marijuana products organic. Th at said, we define clean cannabis as utilizing organic best practice cultivation methods and being free of synthetic pesticides. In fact, we do not treat the plants at all after the first three weeks of flowering, and we long-cure for a minimum of sixty days.
---