"I got my medical recommendation right after high school," said Amelia Williams, 21. "That opened my eyes to just how little I actually knew about cannabis and what it could do for people." She began going to cannabis clubs and learning more and more about the plant. Eight months ago she began budtending at Barbary Coast in San Francisco. "I was in the process of transferring schools and working at a grocery store when I was approached with the offer of an interview—and I almost didn't do it! I was worried that cannabis would play too large a role in my life. It does…but in a very positive way."
CAREER OR PASSION
I'm only 21, so right now this is my job and I'm treating it like the first step in my career. I wouldn't mind still doing what I'm doing in a year. In two or three years I hope to have my bachelor's degree in journalism and help fill the gaps that still exist between the industry and the media.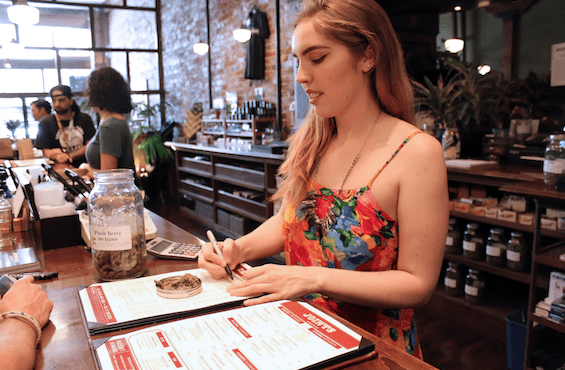 ASKED AND ANSWERED
By and large, we get the most questions about our flower and vapes. I'd say we get the most inquiries about how vapes work and how they compare to smoking flower in terms of conspicuousness and the quality of the high. Our flower menu is pretty extensive and changes often, so a lot of people like to ask me what I like personally like.
ADVICE
A universal piece of advice my manager gave me early on was "work hard and keep your head down." I also like to say "take your job seriously." I always thought cannabis clubs were casual spaces with a lot of leeway, but I learned very quickly that if you want to keep your job you have to be disciplined and consistent and bring your best self to work every day.
TRAINING
I was trained on the job. I did have a passable amount of knowledge about cannabis strains and their effects just by being a patient myself, but the bulk of my education has been independent research and talking to brand representatives about their products.