By Rob Hill
SAN FRANCISCO'S BARBARY COAST COLLECTIVE IS AN ODE TO THE CITY'S
RICH HISTORY COMBINED WITH 21ST CENTURY FLOWER AND PRODUCTS
The Mission District in east-central San Francisco has a rich history dating back to the Gold Rush of the nineteenth century. Littered with beer parlors, after-hour joints, steakhouses, and clandestine speakeasies, The Mission was the trendy place to be for newly minted goldminers. Today, the area bustles with another kind of rush: tech millionaires. Once again, the neighborhood is flush with music, art, nightlife, and foodies. It also houses one of the city's premiere collectives: Barbary Coast. It's easy to see why the techies love the place: Passing through the dispensary's awning is like being transported back in time. Part Old West saloon, a bit turn-of-the-century speakeasy, with dashes of a private cigar
club, Barbary Coast is an homage to a bygone era. The founders set out to create an "inviting" space with lots of "personal touches." By decorating with Victorian couches, exposed brick walls, strategically placed leafy ferns, a girl in a feather headdress atop a vintage piano, dark woods, and floral-patterned wallpaper, they have done just that.
EMPLOYEE PERKS
"We offer our employees dental and medical benefits, paid sick leave, and paid vacation," says Barbary Coast General Manager Jesse Henry.

BUDTENDER REQUIREMENTS
"At the end of the day, customer service and knowledge of medicine are what define the interaction between our budtenders and our patients," Henry noted. "We want our patients to feel as if they are the only ones in the room. We look for experience in customer service; someone who's outgoing and professional but also has experience with cannabis."
ARCHITECT
The founders created the design themselves.
DESIGN
"We wanted something timeless," Henry says. "A place that had a classy speakeasy style and feel to it and something that spoke of old San Francisco."
BEST SELLERS
"As far as flowers, we have some unique strains on our menu," noted Henry. "We don't necessarily go out of way to have the big-name strains but rather look for the best quality on the market regardless of the strain name. We have some really nice high-end strains but also definitely look to have a wide variety of value so that all of our patients can get the medicine they need at costs that work for their budgets. We have a huge selection of edibles, too (Kiva Confections, Altai, Kushy Punch, Korova). Cold-water hash (ice hash) is making a big comeback, and we are seeing a lot of our patients turning to solvent-less oil cartridges for their vape pens. We have everything from Bloom Farms to Zen Pen."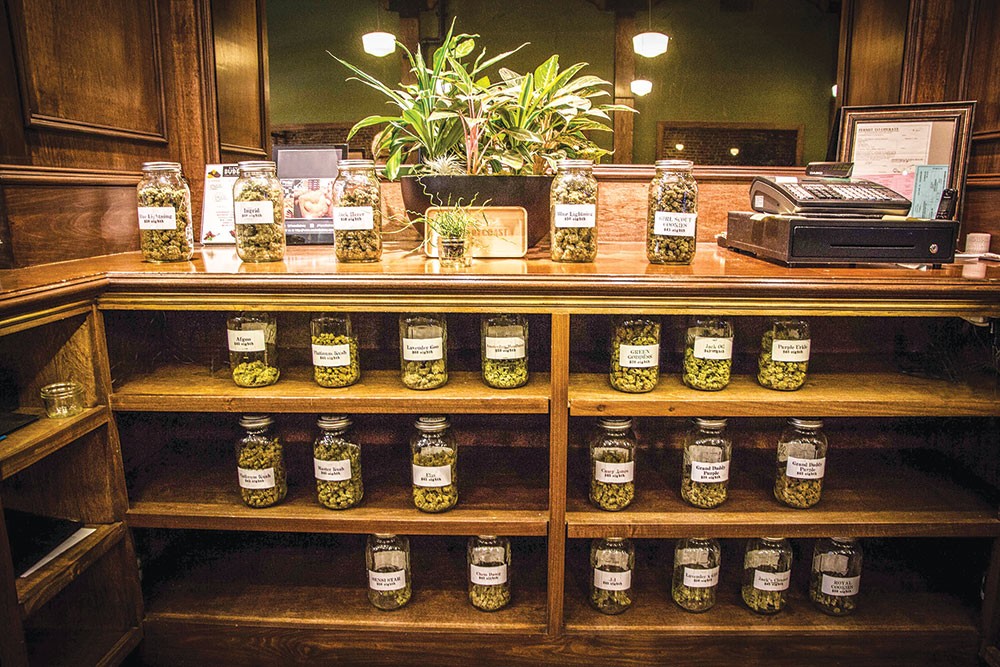 Menu Highlights
FLOWER
Lavender Goo
Lamb's Bread
Gorilla Glue #4