Founded on October 6th of 2014, Green-Theory has capitalized on the allure and the organically polished feel its designers have been able to create with the extensive use of carbonized bamboo countertops and other elements that bring out the best of the Pacific Northwest.
GENERAL MANAGER
Tera Martin has been active in the medical marijuana vertical for years and is a breast cancer survivor who has become well versed in the medical value of cannabis. When offered the opportunity to operate the Green-Theory store and become the first recreational outlet for legal marijuana in the popular Bellevue area, she was quick to seize the moment and has continued moving the store forward ever since.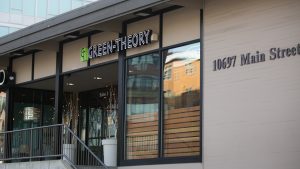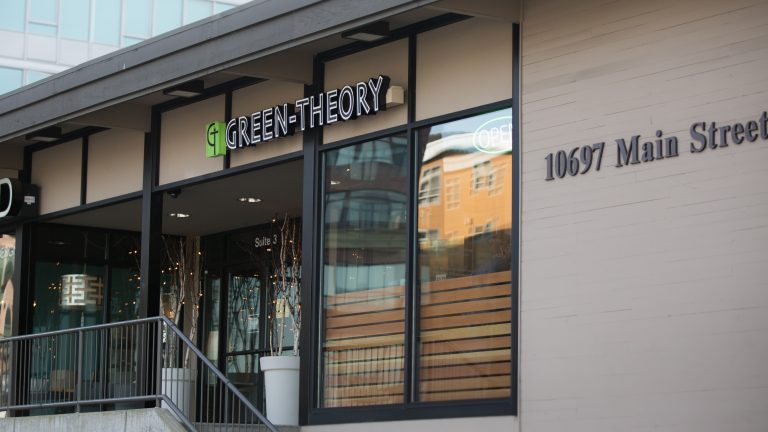 ARCHITECT
Chesmore/Buck.
DESIGN
Chesmore/Buck has been handling design work for Green-Theory's owners on other projects for many years and has extensive knowledge about the area as well as design elements that local customers prefer. Located in downtown in Bellevue on Main Street, Green-Theory is designed with exposed concrete floors that add a simple industrial feel to the upscale environment along with carbonized bamboo countertops and maple slat cabinetry accentuated by floor to ceiling windows in the front of the store. The result is an all-natural, well-lit, inviting and comfortable look—in stark contradiction to other medical or recreational outlets that still favor staying hidden behind blacked-out frontages.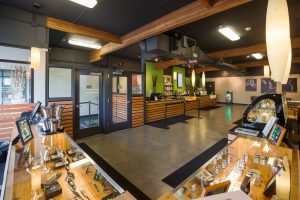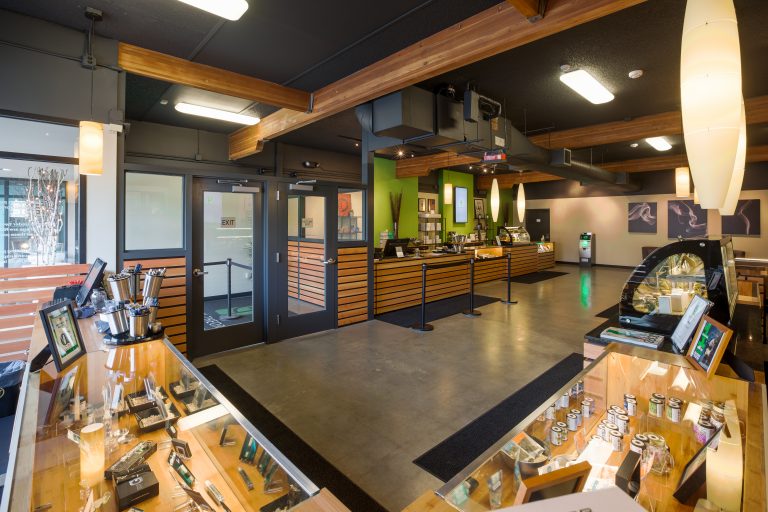 AVERAGE CUSTOMERS
PER DAY Between 350-600. "We provide an experience and atmosphere that sets the bar in the legal marijuana industry," notes Martin. "Our store is safe, comfortable and approachable. You will find that our staff is knowledgeable and well polished. Green-Theory is the original marijuana store to go above and beyond for their customers by providing a loyalty program for frequent shoppers and exclusive VIP events they can attend."
NUMBER OF EMPLOYEES
About 20 full time employees. "When we initially started purchasing products there were no tangible items for sale," Martin recalls. "We did tours of facilities, presentations of packaging and used renderings, photos and business plans to establish relationships. We now have a vendor application process and a knowledgeable testing team that evaluates the quality, price, packaging, marketing plans and distribution process so that we can confidently stand behind every product that we sell to our customers. That makes developing our vendor relationships with our staff one of the most important aspects of our business model."
BEST SELLERS
"Our best selling flower product is Hawaiian Dutch by SubX," Martin says. "For edibles, customers love brands like The Godship Company, 420 Bar and Zoots. These products provide consistency, beautiful packaging and competitive prices. One of our customers favorite ways of consuming is vamping, and that's why companies like Liberty Reach, Juju Joints, Lucid and Jackpot Seaweed shine at Green-Theory"