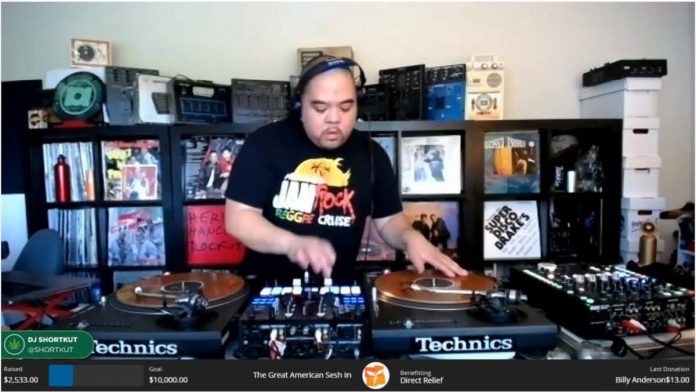 Celebrities that get high—they're just like us. Especially when everyone is hunkered down, practicing "safer at home" protocols in an attempt to #FlattenTheCurve and slow the spread of COVID-19.
The opportunity in the crisis could see distancing protocols and cancellation of live events continue through the end of the year in some states—not a moment too soon for like-minded industries to improve their streaming game, and partner up for cross-promotions and seasonal promotions.
The Higher Together event, billed as the "The World's Biggest Virtual 420 Celebration," live-streamed on sponsor platform and cannabis online directory Weedmaps.com, powered by HowLive.tv.
Billy Ray Cyrus sang a bare bones version of Dr. Hook's "Cover of the Rolling Stone," followed by blues classic "Midnight Special." One of many entertainers appearing live from home over the last month, Cyrus broadcast from a room like an office—in the background, a big blanket or drape with a large Lowell Herb Company logo emblazoned thereon.
Rumor is Cyrus' daughter and entertainer Miley Cyrus has been seen lurking at the former Lowell Café in West Hollywood, California. You can see where she gets her rebellious, yet chill streak—the bud does not fall far from the bush. Billy Ray finished his set with "Old Town Road," the huge 2019 hit for he and rapper Lil Nas X, and a roadhouse-style version of "Achy Breaky Heart" for the encore.
That was followed by the premiere of an animated promotional video, featuring a newly released grimy hoedown cover of the "The Beverly Hillbillies" TV show theme, re-titled "The Ballad of Jed," by Billy Ray, to promote his new signature strain blend pre-rolls, produced by Lowell Herb. It was an amazing look at the near future of adult-use cannabis marketing and cross-promotion with the music industry, and others .

Other canna-celebrities on Weedmaps' roster included legendary singer Erykah Badu, rapper Wiz Kalifa, DJ Alchemist, celebrity strain master and Cookies founder Berner (who was smoking a fat one and giving away some Cookies shopping sprees), comedian Tony Hinchcliff, comedian Joey "Coco" Diaz, and Chef Miguel Diaz.
The Great American Sesh In streamed on Twitch.tv, benefiting nonprofit Direct Aid (COVID-19 Relief). DJ Rob Garza of Thievery Corporation, @RobGarzaMusic, put on an extremely soothing electric world vibe set, full of 420 magic. Rapper Too Short and DJ Shortkut also dropped in on the stream, to give and get some 420 love. The event raised funds for coronavirus pandemic first responders.
At the Highstream 420 Festival, streamed on Nugs.tv, students of cannabis could watch discussion panel with experts, including Josh Wurzer, president and co-founder of SC Labs, who talked terpenes with co-founder Alec Dixon. Broadcasting from work, the mini webinar featured everything needed to know about botanical extractions and their use; plant compounds like terpenes; and how they work to enhance effect, flavor, and quality—a complex topic, to say the least, and one that might lend itself to a sativa, for viewers enjoying at home. The depth of their knowledge regarding the terpenes, popular strains, and extraction was impressive.
"It became an arms race for the highest THC content," said Wurzer. "But for me as a consumer, it's more about the combination of terpenes and the uniqueness of the experience."
Music icon and cannabis advocate Willy Nelson hosted the Luck Presents: Come and Toke It streaming event, also on Twitch.tv, to benefit Last Prisoner Project. Performances included an appearance by blues player Aron Lee Tasjin who played blues number "This Love is the Dangerous Kind," from his bedroom, where his pajamas matched his bedspread. Nelson said he liked the bedspread.
Lo and behold, Billy Ray Cyrus, popped in for a moment, then lost his connection. Streaming difficulties were excused with an old-fashioned theater card and a sepia-toned portrait of Willy that read, "Sorry, we're high."
Then, The Dude himself, actor Jeff Bridges made an appearance, from what looked like a window-lit kitchen, seated at a table with an acoustic guitar. Not wearing a bathrobe like his iconic character from 1998's "The Big Lebowski," but still so mellow and wise, as he sang a song and wished viewers to be "happy, healthy, and high."
Other stars scheduled to appear on the Come and Toke It livestream included Kacey Musgraves, Matthew McConaughey, Toby Keith, Tommy Chong, Ziggy Marley, Bill Maher, and Beto O'Rourke, among others.
The list of recognizable names showing up for 4/20 added valuable sparkle to the virtual events, especially for consumers restricted from congregating in public due to social distancing. So, no "puff-puff-pass," but cool entertainment, giveaways, and comedy brightened the highest of high holidays for many, especially those who prefer an at-home sesh.
VIDEO: #MAMAKUSH #BillyRayCyrus #Weedmaps/YouTube.com.