The 20-year pro creates monster PR campaigns for cannabis brands the "old-school" way.
Don't let her gracious demeanor or petite frame fool you, either. She's into acrobatic yoga and eating dessert, and she readily admits there's a strong, masculine aspect to her personality, as well as a playful joie de vivre.
In Los Angeles, where you're only as good as your last gig—where marketing your brand is everything—Kip Morrison and Associates has stood the test for more than twenty years.
The Beverly Hills-based boutique agency has thirty-plus clients on its roster, with a special division for cannabis brands. Canadian THC-infused beverage maker Tinley Beverage Company and Suicide Girls vape cartridges are clients. Morrison's worked with Foria and Absolute Xtracts on previous campaigns, and has represented dozens of clients in lifestyle, food, cosmetics, fashion, health, nonprofit, and entertainment markets.
Cannabis has given her a second wind, she said, and she finds that exciting. She predicted California–long an incubator for national health and wellness trends–is poised to become the global epicenter of cannabis in the twenty-first century.
Morrison claims she's "old-school" about marketing and branding, but she's quickly conversant in current news and trends. She reads twelve to sixteen publications a day to keep up on the latest events, scanning headlines for any breaking news or trends that could be leveraged to publicize a client. Pop culture, politics, and other topics are in her wheelhouse for potential pitches.
She's not at all shy about representing her campaigns, clients, and staff in the best light. Well-spoken and ready with info, Morrison also actively maintains a network of editors, producers, and influencers at outlets like Forbes, Men's Health, The New York Times, Tastemade.com, and others. She's an unapologetic networker, power-lunching, hugging people, hosting media junkets, and hustling to get her clients exposure.
The three female staffers at the agency are her "secret weapon." Marylyn Simpson is the 29-year-old social media whiz. If you saw the publicity around cannabis flower crowns at Coachella this past April, that's Simpson in action for client Lowell Farms.
Kip said when a story goes viral, as it did with the Coachella flower crowns, it's exciting for the ladies to watch as they rack up the views—but social media is only one component of their marketing and branding strategies. Differentiating a brand in any market is all about having the experience and resources to mount highly individualized PR campaigns, building relationships, and good timing.
The living room of her Beverly Hills condominium has a gallery of arched windows—cozy and elegant at the same time. There are thought-provoking paintings on the walls, white phalaenopsis orchids, and a poofy, pampered Pomeranian named Pepper. The digs suit the dream the daughter of immigrants built while growing up in Miami. She took her parents at their word when they told her "the world is [her] oyster."
Over tea and fresh berries served on china next to a blazing fireplace on a cloudy, California day, Morrison spilled a few secrets.
mg: How did Kenny break it to you that he'd become a major cannabis entrepreneur?
Kip Morrison: For the first two or three years, as a mom, I didn't want to know. I wasn't judging him, but he's very independent and he was doing his thing. We're a lot alike, so he has all my good points and all my flaws. Both my kids are talented: Kai, Kenny's brother, is a photographer.
Kenny was a child actor when he was nine years old. His friends, kids he met at the beach, turned out to be [alternative rock band] Incubus. He [directed] a couple of music videos with them, and they were on MTV in Japan. When they were growing up, I wanted them to experience a lot of activities. Horseback riding, I would take them to museums, I would rent sailboats and we would go out. It was hard sometimes, too, because I was a single mom at the time, but I wanted them to have those experiences as kids.
You're working with trade organization California Cannabis Manufacturers Association (CCMA), which was founded by industry leaders including VCC Brands. What's the group working on currently?
As I've said before, in order to be in business in this industry, you also have to be an advocate. That's why these companies—VCC Brands, Kiva, incredibles, and other leading companies—put the group together, now that regulations are being decided for California.
Right now, they're looking into issues having to do with regulation that will require manufacturers to use third-party delivery for distribution. The companies are already doing their own delivery. They know how to do it, so why bring in third-party drivers at added expense? It doesn't make sense; it won't make anything safer. I've been a spokesperson for causes, you know, so it's important to be proactive if you want to see good regulations.
What's one piece of advice you find yourself always giving to clients, no matter the market?
I'm going to give you three pieces of advice, and they're practically one-word answers. One: You should have a track record in what you're doing. Two: Don't look for the lowest price or a bargain [when shopping for PR]. And three: Be involved and give it enough time. You're not going to get in TIME magazine in two months.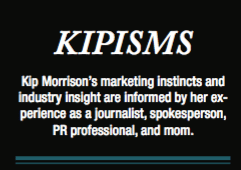 Kip Morrison's marketing instincts and industry insight are informed by her experience as a journalist, spokesperson, PR professional, and mom.
-"In the early days in Oregon, Washington, and California, you could be complacent and sales would increase. Today, you have to do everything any other consumable good does when coming to market."
-"If anyone is waiting to start getting their brand out there in a post-regulatory environment, that's a prescription for failure."
-"Some clients feel PR is better than advertising to target millennials. They tune out advertising but love good stories."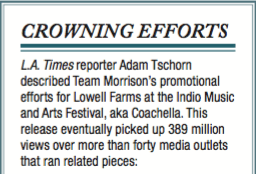 "Nothing says 'music festival' like a floral crown…
The Coachella-worthy cannabis crown is part of a marketing effort by Santa Barbara-based Lowell Farms…The new twist on the floral crown—was announced by the company in a Wednesday press release as well as via its Instagram feed."— From the March 30, 2017, Fashion Section of the Los Angeles Times