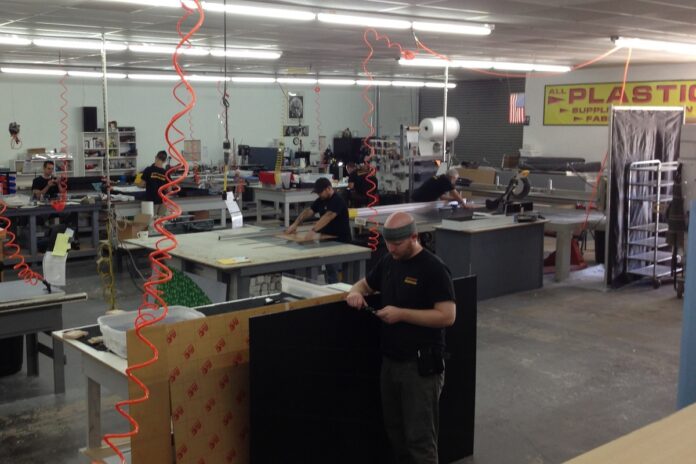 Protective equipment has become a critical everyday necessity in the battle against COVID-19. Though face masks and social distancing still may feel strange, public health-mandated hygiene barriers were in use long before the pandemic.
Often overlooked, Plexiglass sneeze guards have been in use in restaurants for decades. They were there to stop airborne contagions from raining down on salad bars and buffets. Now, the pandemic has made indoor dining and open trays of food things of the past—yet, Plexiglass barriers have never been more important or in demand.
Before the pandemic, Bud Bar Displays Chief Executive Officer Will Smith and his team were busy fabricating custom display fixtures for cannabis dispensaries. The company's repertoire included innovative display pods for consumers to see and sniff dried flower, LED-lit shelves for cannabis extract products, free-standing cabinets and shelving units, and Plexiglass countertop displays to hold penny pipes or other impulse items.
Then, the pandemic came.
In April 2020—a few weeks into the pandemic—cannabis industry businesses in most legal states were granted "essential service" status by local officials. This allowed cannabis businesses to continue operations throughout initial pandemic lockdown periods, as long as new workplace guidelines for the pandemic were in place.
Smith, however, didn't have to wait weeks to see which way the wind was blowing, and that the gusts potentially spread coronavirus all over the place.
"Hospitals were the first," he said. "Initially, there was a lot of confusion from them about exactly what they needed, but as things quickly shook out, it was mainly the counters where incoming patients interact with hospital staff that ended up being the primary protection goal.
"After that, the requests for specialized breath barriers moved deeper into the hospital and patient areas like emergency room areas, treatment areas, and then operating rooms. Around the same time grocery stores, gas stations, and other essential businesses began requesting sneeze barriers," he added.
Many might assume hospitals already would have had adequate antiviral protocols in place and, with the exception of packed emergency or waiting rooms, health facilities would be well prepared to carry out emergency quarantine protocols to protect staff and patients. But more protection was needed.
With a new airborne virus like COVID-19, experts agree: In lieu of adequate personal protective equipment (PPE), contact tracing, virus testing, or a vaccine, the best ways for individuals to protect themselves are physical barriers (including face masks), avoiding close personal contact, and frequent handwashing.
For those who work in essential jobs dealing with the public, like budtenders and other retail workers, the risk of exposure increases incrementally with each customer-facing encounter. Experts speculate real rates of infection may be much greater than reported due to asymptomatic spread of the virus.
So, the real and present problem is to protect yourself from something you can't see.
Bud Bar Displays' team was able to pivot on a dime (actual coinage—another sought-after item during the pandemic) and start fabricating protective barriers for essential services, including their regular cannabis customers.
"We went from zero to full throttle overnight to design and manufacture sneeze barriers," said Smith. "Our company hired additional staff and our shop has been working double shifts and overtime.
"Essential businesses were really scrambling to put some form of protection in place immediately; in all of this, we have continued to manufacture our Bud Bar Displays, of course, and we are shipping as quickly as possible in this environment.
"We have a stock of our most popular designs so we can normally ship within a day. When we get into custom designs, orders from the medical industry get 'front of the line' priority. However, the normal turnaround for custom designs is anywhere from five to seven days," Smith added.
Other businesses in the manufacturing sector also pivoted to provide pandemic supplies in high demand. Clothing manufacturers switched to making face masks. Tool and die manufacturers turned out "COVID keys," made from metal and used to touch door handles, push buttons, and other "high touch" surfaces.
Many cannabis industry companies switched up operations at their facilities to produce pandemic supplies. Several cannabis extraction companies were able to quickly supply tens of thousands of units of hand sanitizer—a commodity in very high demand in the initial stages of the pandemic.
Cannabis cultivation companies, which maintain sterile environments as part of production, donated supplies of medical quality face masks and other PPE to frontline healthcare providers and nonprofits in their communities.
As an ancillary business in the cannabis sector, Bud Bar Displays was able to quickly adapt to the "new normal," and what that means for consumers in stores, hospitals, and other indoor public areas.
It's a whole different post-pandemic world for retailers, even cannabis retailers, and that's created a new product category for Plexiglass design and fabrication. It may be the worst kind of windfall, but because no one wants to catch COVID-19 barrier products have become absolutely essential.
According to Smith, at the beginning of the pandemic there were no guidelines from state officials or federal agencies about the design of physical barriers. "We quickly developed some standard designs that work well in a variety of situations, but about 50 percent of our barriers needed modification to their standard designs or specialized barriers needed to be designed from scratch," he said.
When designing barriers, "The main goal is to prevent one person's breath vapors from reaching another person's face while in close proximity to each other," Smith continued. "We spent time researching how a person's breath vapor lingers in the air and how forcefully the vapor of a sneeze can travel, then used that information to create different designs for different situations.
"Realistically, you will not be able to achieve a 100 percent-effective barrier in our everyday social life without going to extremes," he added. "But like all the other preventative measures we are taking, it is a critical component to help slow the spread of this virus."
Smith said the company's most requested item has been countertop sneeze guards. Though the team has received requests that resulted in innovative barrier designs.
"We have done some unusual designs for operating rooms in hospitals to help protect hospital staff while performing invasive procedures and, on the other end of the spectrum, we worked on a multi-section barrier to protect farm workers while working in close proximity to sort produce on a conveyor belt," he said.
"We will continue manufacturing barriers as long as required, along with our normal Bud Bar Display product line, but we look forward to the day that these barriers will no longer be needed," said Smith.