More than two million Americans turn to medical cannabis to help them manage debilitating diseases, chronic pain, post-traumatic stress disorder (PTSD), and other conditions, according to 2018 statistics. In recognition of that reality, sixteen states and the District of Columbia have sought to make medical cannabis and derivative products more accessible, not only to their residents but also to those visiting from out of state. States with reciprocal programs permit cardholding patients from other states to purchase and possess cannabis for medical use.
Unfortunately, not all legal medical cannabis states have out-of-state patient programs, and there are discrepancies among those that do. Until all states adopt a consistent program of reciprocity featuring a simple application process, reasonable fees, and timely approvals, patients will suffer without proper access to the medicine they need while traveling.
Currently, the use of cannabis for medical purposes is legal in thirty-three states, four territories, and Washington, D.C. Several of these states also have legalized cannabis for recreational use, including Alaska, California, Colorado, Maine, Massachusetts, Nevada, Oregon, and Washington. Illinois recently joined legalized adult recreational states that permit adults over age 21 to enter a dispensary with valid government-issued identification and purchase the products up to that jurisdiction's legal limits.
In recent years, more states that prohibit adult recreational use have passed legislation to allow out-of-state medical patients to possess and consume cannabis and cannabis products while visiting. These states include Arizona, Arkansas, Hawai'i, New Hampshire, Oklahoma, Pennsylvania, and Rhode Island. Each state established its own regulations and purchase limits for medical cannabis. Certain states restrict possession, purchase limits, and consumption more than others. These convoluted and evolving rules and regulations can make things unnecessarily difficult for traveling patients, many of whom are coping with geriatric conditions.
Some states allow patients to use medical cannabis credentials issued by their home state, while others require visitors to apply for a temporary out-of-state patient (OSP) card or to complete a visiting patient form. Some have sought to modernize the process and make it simpler for visiting patients. One example is Hawaii, where the department of health launched an electronic program in March 2019 allowing out-of-state patients to apply for a 329-OSP card online up to sixty days prior to arriving in the islands. Approved patients may download and keep their cards electronically on their smartphone or tablet to enjoy the same access and legal protections as state residents for two months. Although Oklahoma also offers an online application and Arkansas is in the final stages of developing one, the cost for securing temporary patient credentials in those states is twice as much as Hawai'i and credentials are valid for half as long.
Sadly, some states prohibit out-of-state patients from entering medical cannabis dispensaries to replenish their supply. For example, patients visiting Arizona and New Hampshire are allowed just one dispensary visit; they may not purchase more medicine should they run out. In Rhode Island, out-of-state patients may buy medical marijuana with two government-issued IDs, but they must previously be in a state database that tracks sales.
Patients who travel for business or leisure would benefit from nationwide regulatory standards that support accessibility, modernization, and ease for Americans who choose to use cannabis as part of an integrative health program under the direction of their medical practitioner.
Until such a system is implemented, patients must navigate ambiguous, inconsistent regulations, high costs, and out-of-date processes that create barriers between them and products that bring them relief.
---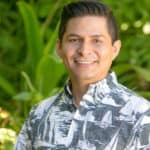 Pedro Haro is executive director of HEALTH, the Hawaii Educational Association for Therapeutic Healthcare, a private, nonprofit trade association serving Hawaii's permitted patients and all eight of the state's dispensaries. The association works with patients, public health and law enforcement officials, medical professionals, legislators, and others to improve the lives of those who choose medical cannabis as part of their healthcare options.