In Southern California, the visible symptoms of plague are a metaphor for how residents feel. The symptoms of a fever spell—the delirium, the violence, the frustration, the rage—appear in embers that still glow and fires that still burn. The symptoms of exhaustion appear on every storefront, from rows of vacant aisles to stacks of empty shelves.
The symptoms of starvation appear on every street corner, where the homeless beg and the hungry cry for help. The symptoms are everywhere, especially among those businesses the City of Los Angeles deems to be essential businesses. But cannabis dispensaries cannot survive an economic catastrophe and a public health emergency without a plan of action. Nor can dispensaries deliver cannabis with impunity.
Bear in mind, please, that my testimony is an account of what I saw and continue to see, as the people of Southern California try to battle the effects of COVID-19 and the aftermath of social unrest. Recovery is hard to imagine but imagine it we must; we cannot afford to surrender during a moment of maximum trial.
The trial is a test of our endurance, of the ability of those institutions—public and private—to help one another and serve the common good. The trial is, as of this writing, a question of weathering new restrictions and additional quarantines.
The trial is a test for residents who need medicinal cannabis or cannabinoids, since many dispensaries have little or no inventory. Short of supplies, along with shortages among suppliers, dispensaries also lack a supply of qualified drivers. By qualified, I mean drivers who not only do their jobs well, but who also work for dispensaries that have permits to legally deliver cannabis.
The challenge to dispensaries is a matter of logistics on one hand, and law on the other. The former involves hiring drivers who know their routes because they have roots in the city; they know a neighborhood better than the directions an app offers or a GPS system provides and they know the people and specific customers in the neighborhood so deliveries can be safe, reliable, and discreet.
Regarding the latter, the legal challenge is an issue of compliance. For example: A dispensary that has a permit to sell cannabis may not have—oftentimes does not have—a separate and necessary permit to deliver cannabis. This situation exists not because dispensaries knowingly break the law, but because the laws themselves are complex, extensive, and hard to read or understand. Even lawyers find it difficult to interpret every city, county, state, and federal rule governing the cultivation, distribution, sale, and delivery of cannabis.
The solution to these challenges is clarity. That is to say, dispensaries need professional drivers who have a clear understanding of what it means to deliver medicinal cannabis and sundry items; that delivering these products is not like delivering pizzas; that drivers who deliver cannabis are not inexperienced, part-time help.
Dispensaries also need clarity from lawmakers. Put another way, a law that is unambiguous is a law that increases compliance. Rather than imposing fines or closing dispensaries, we should be advising and counseling people who own or work for these businesses. We should be encouraging compliance, not complaining about how discouraging the process is.
If dispensaries combine discretion with convenience and expertise with reliability, the outcome will be positive. If the cannabis industry adopts these principles, the economy will be stronger. If these principles become guiding principles for all industries, the nation will be the envy of the world.
These principles should influence how we act. More importantly, these principles should inspire us to lead. With the integrity to persevere and the independence to succeed, dispensaries shall overcome the difficulties they face.
Together, we can achieve a just and lasting victory.
---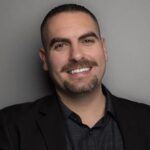 David Albanese is chief executive officer at High Farms, a Southern California-based provider of business advisory services for cannabis growers and sellers.