Canopy Growth Corporation has appointed David Klein to the position of chief executive officer. In his current role as executive vice president and chief financial officer at Constellation Brands, Klein oversees the company's finance operations, mergers and acquisitions, and information technology.
Mark Zekulin will step down from his role as CEO and resign his seat on Canopy's board of directors.
"Canopy Growth sits at the forefront of one of the most exciting new market opportunities in our lifetime," said Klein. "Thanks to the efforts of Mark and the entire team at Canopy Growth, no company is better positioned to win in the emerging cannabis market. I look forward to working with the team to build on the foundation that has been laid, to develop brands that strongly resonate with consumers, and to capture the market opportunity before us. Together we will drive sustainable, industry-leading growth that benefits employees, shareholders and the communities in which we operate."
---
Vertically integrated cannabis operator Curaleaf Holdings, Inc. announced two changes to its executive team: Joe Bayern will take over as president, with Tracy Brady assuming the role of vice president, corporate communications. Bayern joins Curaleaf from INDUS Holdings, where he served as president. Brady joins from Hill Holliday, an advertising agency, where she served as senior vice president of communications and corporate marketing for eight years.
"Joe Bayern brings the expertise, track record and passion that will help take Curaleaf to the next level," said Curaleaf Chief Executive Officer Joseph Lusardi. "His experience in senior leadership roles in consumer goods, and most recently cannabis, will greatly enhance our ability to operate and excel in our next phase of growth."
"As Curaleaf continues on our growth trajectory, our communications will prove even more vital. Tracy's expertise will bolster our efforts to communicate more seamlessly with all of our stakeholders and further promote our core values of quality, transparency and reliability in all that we do," said Bayern. "We very much look forward to welcoming Tracy to our team."
---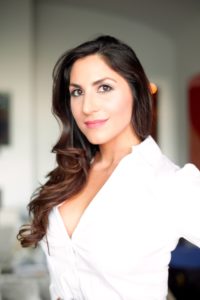 Cannabis lifestyle brand Sweet Flower has appointed Kiana Anvaripour to the position of chief marketing officer. Utilizing her experience in cannabis, fashion, and lifestyle, Anvaripour will be responsible for the company's branding, strategic alliances, consumer experience, and partnerships. She joins the company from Beboe Brands.
"When it comes to marketing, Kiana has proven herself to be a visionary time and time again," said Sweet Flower Chief Executive Officer Tim Dodd. "Her track record in cannabis as well as various other verticals speaks for itself. She will undoubtedly be a catalyst for Sweet Flower's growth in 2020 and beyond as a key player in the future of the brand. She's going to catalyze and drive our next chapter and mainstream growth."
---
According to Benzinga, Bhang Inc. has transitioned Jamie L. Pearson from interim president to president and chief executive officer upon the resignation of CEO Scott Van Rixel.
Pearson, who was named one of the most powerful women in the cannabis industry in High Times' Female 50, announced in a letter to Bhang shareholders her intent to reduce the company's SKUs to only the most profitable and to reduce staff.
"Bhang's focus is on being a great CPG company—period," Pearson said. "Despite the intense regulatory and market environments, I am excited to lead Bhang. I believe in the strength of our brand, the strength of our products, and most definitely, in the strength of our team."
---
Ionic Brands' Scott Manson will resume his position as the company's chief financial officer and general counsel.
"The company is committed to continual cost reduction efforts and has identified the need to streamline its executive team," said Ionic Chief Executive Officer and Director John Gorst. "We thank Rhett Couture for his contribution and wish him the best with his future endeavors. We are confident Scott will enhance our finance and legal team's efficiencies."
---
Luke K. Stanton and Jeffrey D. Welsh have been named partners at cannabis law firm Vicente Sederberg LLP. The move, along with the recent hiring of San Francisco-based attorney Christina Sava, is an expansion of VS's California operations.
Stanton and Welsh join VS from Frontera Law Group, which they helped found in 2015. Frontera was recognized as one of the Top 100 Cannabis Leaders by Entrepreneur Magazine and one of mg Magazine's 50 Best Companies to Work for in Cannabis in 2018.
"We are pleased to welcome these exceptionally talented attorneys to Vicente Sederberg," said VS Founding Partner Josh Kappel. "This expansion of the firm's partnership, as well as the addition of a highly qualified attorney in the Bay Area, will create a host of new opportunities for our clients and further establish VS as a global leader on cannabis law and policy."

---
Medicine Man Technologies Inc. made multiple changes to its executive leadership team. Co-Founder Andy Williams will assume the roles of vice-chairman of the board and president of the company. Justin Dye of Dye Capital has been appointed executive chairman of the board and chief executive officer. Bob DeGabrielle, founder of Los Sueños Farms, has been named chief operating officer. Nancy Huber transitioned from senior vice president of finance to chief financial officer. And Brian Ruden, co-founder and CEO of the dispensary chain Starbuds, was elected to the board of directors.
"I believe this leadership team positions the company for sustainable growth," said Dye. "The combination of a world-class executive team, the great people of Medicine Man Technologies, and its targeted acquisition partners creates a team that is unrivaled in the industry."
---
Donald J. Steinberg has resigned from his positions as chairman of the board, chief executive officer, and treasurer at Marijuana Company of America, Inc. Chief Financial Officer Jesus Quintero will step into the roles of principal executive officer and chairman of the board.
"It has been an honor to lead the company these past four years and to serve the customers, stakeholders, and staff who have been part of the foundation of the company," said Steinberg. "As many of you know, one of my passions is the development of start-up ventures. I believe in the future of the cannabis marketplace and greatly desire to be a part of advancing the innumerable opportunities that are yet to be discovered. For this reason, I have decided to step down as CEO to allow the company to pursue new groundbreaking opportunities under new leadership."
---
Cannabis staffing firm FlowerHire has named Sloane Barbour to the role of chief revenue officer. In the role, he will open the company's East Coast operations with an office in New York City. Barbour's previous experience in sales and recruiting includes time with Motion Recruitment Partners, Hired.com, and Mouse.org.
"I see the balance of power in the U.S. cannabis market shifting from the West Coast to the Midwest and East Coast in 2020," said FlowerHire Chief Executive Officer and Founder David Belsky. "Sloane is the perfect addition to help expand the FlowerHire mission of high touch, strategic talent and recruiting services to marquee operators in that geography."
---
Have new hire or promotion news to share on Cannabis Career Watch? Send your press release to [email protected].