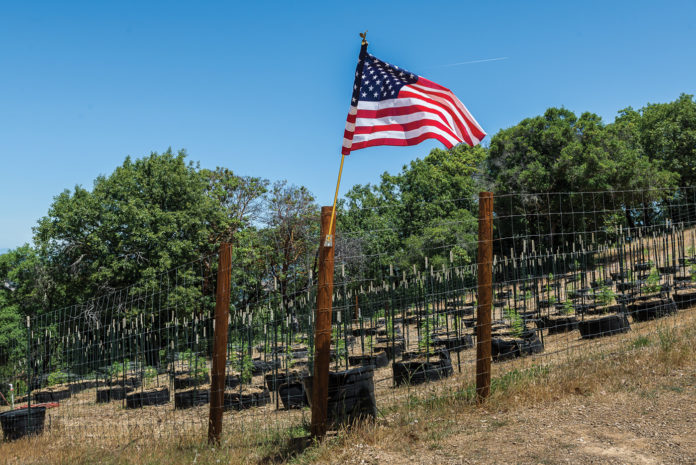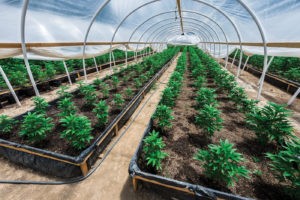 The Dolce Canapa cannabis farm sits at the tippy-top of a mountain in Mendocino County, California, with stunning views that stretch for miles across the base of the Emerald Triangle. Steve Amato has owned the property for several years, and as he points down to various carved-out patches of land on the surrounding hillsides, he sounds both uneasy and hopeful.
"These hills used to light up at night, with all the greenhouses that are scattered around," he says. "But these last two seasons we've seen fewer and fewer lights. I guess they're getting out of the game."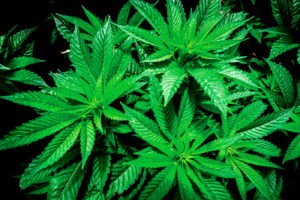 Whether they're reading the headlines in Oregon or the writing on the wall closer to home, California's small farmers are justifiably concerned about the overproduction of cannabis that has flooded the West Coast market and driven prices to unprecedented lows, particularly for outdoor varieties.
In Washington and Oregon, the average price for sun-grown cannabis has been cut in half over the past year, from about $1,500 per pound to between $700 and $800 per pound. At the bottom end of the flower market, manufacturers of oils and extracts are paying farmers as little as $50 per unit.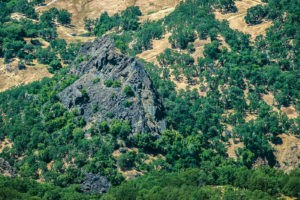 While the "glut" or "oversupply" has been a boon for recreational users and patients, who can buy inexpensive, lab-tested flower on the cheap, it has been a horror show for many small farmers who didn't anticipate such a swift, dramatic drop in prices. Cannabis may be one of the last frontiers for small farmers in the U.S., but whether they are able to survive against deep-pocket, industrial-scale competitors is the billion-dollar question. If the western states are interested in preserving their culture of small farms and craft brands, the open-ended licensing structure that paved the way for the glut must be scaled back or reimagined.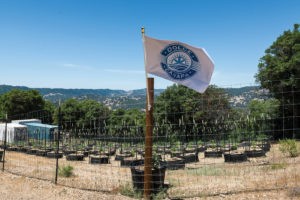 Origins of a glut
To understand the oversupply on the West Coast, it's instructive to look at the flower markets on the East Coast, where states have taken a much more cautious and restrictive approach to licensing cannabis suppliers and retailers.
Florida licensed only five medical cannabis cultivators when the state launched its program in 2014. By August 2018, the number of licenses had risen to fourteen serving a patient population of more than 100,000. More than 400 entities applied for the four new licenses the Florida Department of Health plans to issue in 2018. The situation is similar in other states: Maryland, Connecticut, Louisiana, and Ohio, for example, have awarded a limited number of cultivation licenses to a handful of well-funded businesses that likely will be dominant players in those states for years to come.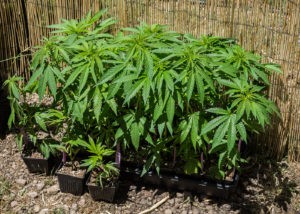 "In states with limited licenses, the downside is that barriers to entry—expensive applications and licensing fees—are really high, so you don't have small farmers as a result," explained Amy Margolis, an Oregon attorney who founded and serves as director for the Oregon Cannabis PAC and the Oregon Cannabis Association. "On the West Coast, there was a fundamental decision to keep the barriers to entry low and allow longtime participants to have access to the market. Now the challenge is letting everyone in, because they will come in."
When Oregon legalized recreational weed in 2015, the Oregon Liquor Control Commission (OLCC) issued licenses to almost everyone who applied and qualified, resulting in nearly 1,000 recreational cannabis growers in the state. Hundreds more currently await approval. In 2017 alone, Oregon growers produced 1.1 million pounds of cannabis flower, according to the state's database. It's estimated less than half of the total was sold on the legal market. In response to the imbalance, the United States attorney for Oregon issued new enforcement guidelines directing prosecutors to investigate black-market activity. He also asked Oregon regulators to collect and analyze data about the state's cannabis production and distribution. The OLCC announced cannabis business applications received after June 15 would not be evaluated until 2019, giving the state more time to assess the supply-demand mismatch.
As growers in the state continue to produce and prices continue to fall, the situation is bleak for small businesses. Up and down the supply chain, many are laying off employees, closing farms, and losing significant start-up investments.
"Both approaches [open versus limited licensing] have their pluses and minuses, and both have their challenges," Margolis said. "In these open markets, some will win and some will lose. Of course, it does mean we have a hyper-competitive market right now."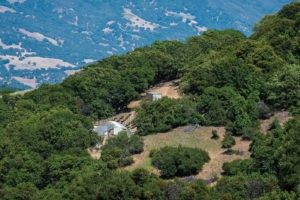 Some growers place the blame on the state for, in 2016, lifting a restriction that prevented on out-of-state investors owning farms and retail shops. The move led to a new round of green-rush investment in large operations, further crowding small farms. Now, growers are wondering how long the war of attrition will last and how many of them will emerge on the other side.
Jeremy Moberg, owner of CannaSol Farms in eastern Washington and president of the Washington Sungrowers Industry Association (WSIA), argued the Washington State Liquor and Cannabis Board (WSLCB) has failed to adopt sensible policies to regulate and stabilize the cannabis market. The glut in Washington appears to be every bit as bad as in Oregon, and the new track-and-trace program and overproduction are the big issues causing pain and adding excessive overhead for small farmers, he said.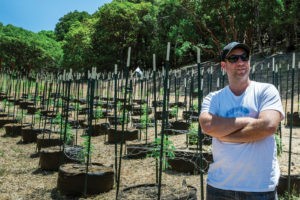 WSLCB "engineered oversupply, and it's an immoral act for them to coax growers out of the closet and then not manage the market so they can survive," Moberg said, more than a little impassioned. "They have done nothing to try to improve the marketplace for growers, so not only are they encouraging overproduction, but then they don't allow these farms to go out of business. They just sell the license, and the next dumb money comes in to further drive down prices."
As one of the first licensed growers in the state, Moberg was able to sell his premium, sun-grown flower for as much as $12 per gram just a few years ago, when there was a scarcity of legal weed. But as the state approved more and more cultivation licenses, the oversupply drove prices into the ground. Now, Moberg sells his top-shelf flower for about 50 cents per gram, but 25 cents per gram is closer to the industry average, he said, with some growers settling for as little as 10 cents per gram.
When Colorado's medical cannabis market launched, Jay Czarkowski, founding partner of Canna Advisors, said his company successfully operated multiple cultivation facilities before opening the Boulder Kind Care dispensary in 2009. The vertical integration, along with a well-oiled commercial cultivation operation, allowed his company to offer flower at some of the lowest prices in the region, and his business flourished.
"Even after we had our first few grows and dispensary, I would go to city council meetings and stick up for my competition. I've always said if someone can come along and do it better than me, then I deserve to go out of business," Czarkowski said. "So, either up your game or go out of business. That's the way it is in any other industry."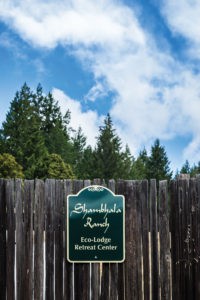 As both an operator and a consultant, he doesn't view the situation on the West Coast as a glut, per se. A firm believer in free and open markets, Czarkowski predicts cannabis will take the same course as every other agricultural commodity and prices eventually will settle in at $100- to $200 per pound in states where there is healthy competition. In states like Connecticut, he noted, prices are inflated because the state has restricted cultivation licenses and there is not enough competition between growers.
Strategies for survival
When Dolce Canapa's Amato moved from an agricultural region in New Jersey to Mendocino County, he already was familiar with the hard work and perseverance it takes to operate a small farm successfully. He also understands why and how the odds are stacked against him. After growing classic strains such as OG and Sour Diesel in the past, he is now focused on producing more unique, sun-grown strains developed locally, in tune with the weather, terroir, and other variables that bring out the plants' full potential. He is optimistic about his farm's future, in large part because of the glowing feedback he gets about his flower when he takes his crop to distributors and retailers.
"We're all about the flavors and smells," said Amato. "If someone tells me this strain tastes really good, but this one yields more, I'll go with the flavor every time. Quality is where it's at; that's what gets the distributors' eyes open."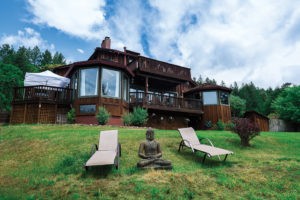 The Watermelon Rancher buds he shows off from last season still have a sweet, fruity, melon aroma that is also lemony and tart, with flavor as tantalizing as its nose. Amato's flower often is confused with indoor and greenhouse products, he boasts, and he has been able to sell his yield for $1,100-to $1,200 per pound over the past few years.
For small, "craft" growers like Amato, the Emerald Triangle is an obvious draw, with its storied history of cannabis cultivation and culture, a temperate climate, and potential business partners and services at every turn. Even so, many cannabis people fear for the future of Emerald Triangle growers and are skeptical the (primarily) small farms will be able to compete with impersonal behemoths funded by deep-pocket investors that are setting up industrial-scale greenhouse operations in the central valley and along the coast, most notably in rural areas around Monterrey, Salinas, and Santa Barbara.
If the smaller farms are going to survive, they will need to adopt some of the same economies of scale large cultivation operations put in place on day one. One of the outfits leading the charge to help small farmers in Mendocino and Southern Humboldt counties is Flow Kana, which is betting big on the future for sun-grown cannabis on the North Coast.
Located on the former Fetzer Vineyards property in Redwood Valley, California, the Flow Cannabis Institute sits on a sprawling 80-acre property that is being transformed into a cutting-edge cannabis hub and incubator, of sorts. The company has raised about $50 million to build everything it needs to process, test, manufacture, and distribute cannabis flower and other products from its 100-plus partner farms. The first functional facility is dedicated to processing, sorting, and packaging flower, and the institute soon will start construction on testing lab and manufacturing facilities. Even the winery's old-timey saloon will be re-envisioned before long, offering tourists education classes and—assuming cooperation from state regulators—tastings, tours, and events.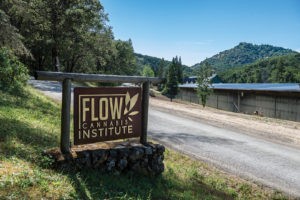 Flow Kana co-founder and Chief Executive Officer, Michael Steinmetz explained the company's primary goal is to help farmers with every step of the process after their plants are harvested and cured. He said farmers who succeed in building successful craft brands will help preserve the legacy of sun-grown cannabis for years to come in the Emerald Triangle.
"When prices drop, we will survive because we've found efficiencies along the way," Steinmetz noted. "Farmers have historically done everything in the supply chain, but we will start doing everything after post-harvest for them."
By offering small farmers tools to help them grow and analyze their businesses, Flow Kana means to provide insight that will help them to adjust their business models as market conditions fluctuate and new opportunities arise.
"Transparency is big for us, between both our customers and our farmers. We have a lot of analytics we share with them—what strains are doing better in which areas and how their products compare to other brands," he explained. "They really like that transparency and can use it to adapt to new markets.
"If they used to grow beautiful AAA flower, that may be a smaller part of the market now, whereas oil [extracts] is growing more every year," he added. "So, we want to help them be more strategic in how they use their resources."
Diane Czarkowski, founding partner of Canna Advisors in Colorado, tells growers to be flexible in order to survive in competitive, dynamic markets. Follow the price wave, she said, or find other ways to enhance the company's value.
"Over the past five to ten years, growers in Colorado have figured out ways to package materials that make them more attractive to labs," she said. "They will package raw material in different grades depending on what manufacturers want. This is a good way to differentiate yourself from competitors on how you're selling raw materials."
Growing pains
Tamar Maritz, the California Regional Director for BDS Analytics, tracks retail trends in the state's nascent adult-use market. Recently, she noticed an anomaly: Extractors in Humboldt County are sourcing much of their raw material (trim, popcorn buds, etc.) from large greenhouse operators in the central valley—300 to 400 miles away—instead of neighboring farms in the Emerald Triangle.
"Small farmers often can't bring their costs low enough to meet the demands of wholesale [manufacturing] labs and retailers," she explained. "Another challenge is the fact that a lot of the retail outlets have their own flower cultivation, so competing for branded flower space on shelves isn't easy."
California growers face other challenges associated with the growing pains of a newly regulated industry. With fewer than thirty qualified testing labs in the state, farmers are waiting as long as six to eight weeks for test results. There is also a severe shortage of licensed retail outlets. Maritz estimated there were about 3,000 locally authorized retail operators in the state in 2017—both storefronts and delivery services. By January 2018, the state had issued only 300 retail licenses, and by the summer that number had doubled to about 600—a far cry from the marketplace just last year.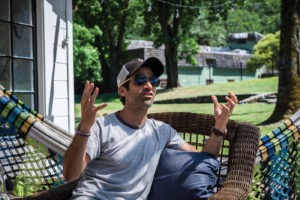 The Emerald Triangle, encompassing Mendocino, Humboldt, and Trinity counties, historically has been the nation's budbasket, supplying OG, Sour D, and other distinctive Cali strains to black-market buyers across the country. But the loose-knit community of guerilla, outlaw farmers didn't grow their market playing by any established set of rules. Sure, there are unwritten codes of conduct, but those are only loosely followed and always have been open for interpretation in a black market that created strange bedfellows, to say the least. But after California voters overwhelmingly adopted Proposition 64 in 2016, legalizing cannabis for recreational consumption, the game changed dramatically. With strict new regulations, taxes, and formalized business structures, small growers are faced with some tough choices about their future.
Whether California is on the same path toward overproduction as its West Coast neighbors is an open question, but the similarities in the licensing process and market dynamics have created an atmosphere of fear and anxiety, with many farms in the Emerald Triangle shutting down or clinging to their legacy by supplying a thriving black market that likely will take many years to diminish.
Of the 7,182 cultivation licenses in the U.S., 43 percent are in California. Of the California licenses, 3,844 are for cultivation; about 20 percent of those are held by just twelve licensees. Companies that control "stacked" licenses can operate mega-farms and push their weight around in the market by negotiating bulk deals with manufacturing labs, testing labs, distributors, and retail outlets. The irony: Proposition 64 was meant to prevent just such a scenario.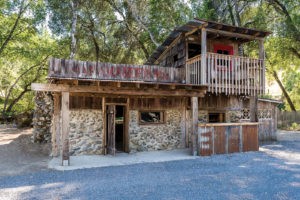 In 2016 and '17, as Californians were debating recreational legalization, there was widespread support for protecting the small farmers in the Emerald Triangle. Those farmers built the industry over the past thirty to forty years, and small communities heavily rely on their revenue. When the authors and proponents of Prop. 64 were trying to gather support for the initiative, they pointed to a provision meant to protect small farmers during the first five years of adult-use legalization. However, soon after voters passed Prop. 64, the California Department of Food and Agriculture (CDFA), which issues cultivation licenses, began allowing companies to accumulate multiple licenses for the same property and establish industrial-scale cultivation operations. The process is known as "stacking." In response, the California Growers Association filed a lawsuit accusing the CDFA of undermining the intent and spirit of Prop. 64 by allowing companies to operate with an unlimited number of stacked licenses.
Many large cultivation companies in California are staking their claims in the traditional agricultural areas along the central coast, regions well-suited to produce large volumes of raw material and with the infrastructure and labor force to support industrial-scale farms. Organic Green Farms, for instance, holds 147 licenses. Together, the licenses allow OGF to grow 1.5 million square feet of canopy on farms near San Luis Obispo and Santa Barbara, an area with a favorable climate for cannabis cultivation and smack-dab between the two biggest retail markets in the state.
In contrast, legacy farmers chose their land for the opposite reason: In the remote mountains of the Emerald Triangle, it is easier to conceal large grows, tap into rivers, and streambeds, and evade law enforcement. In the past, federal and state officers were the primary threat to farms in the Triangle—and that longstanding game of whack-a-mole is far from over—but now-legal farmers face obstacles, challenges, and risks of a different order.
Down the road from Dolce Canapa, in a serene, heavily-wooded valley near the California coast, Stuart and Tara Marcus have cultivated cannabis since 2011, when they received a sheriff's permit for a grow on their Shambhala Ranch. The ranch also serves as a haven for small groups celebrating weddings, yoga retreats, and other events. As a former chairman of Mendocino County's tourism board, Marcus sees small cannabis farmers' plight and compares it to the early days of drawing tourists to Mendocino.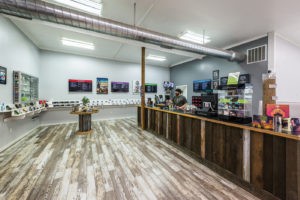 "I feel small growers will have to really start to work just like small lodging operators and market our county," he said. "From a practical standpoint, unless you're really, really talented as a grower, it's going to be hard to market small farms. My neighbors around here are bailing out like crazy, and I think it's going to be devastating to a large group of people."
In addition to the challenges inherent in competing with larger operations, Marcus is frustrated by the county's flip-flopping cannabis regulations.
"The thresholds to licensing are painful, to say the least, and it's beyond demanding," he said. "This is a very, very shaky business to get into, so if I didn't have a history on this ranch, I would never think about going into cultivation."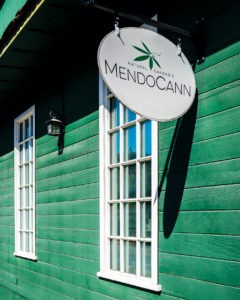 Under California's new regulations, growers, manufacturers, and suppliers must use a distribution company to deliver their products to testing labs and retail shops. That adds another 15 percent to 30 percent to the cost of doing business. Some small farmers argue the requirement is unnecessary and only makes it harder for them to compete against bigger players, who often have the resources—and license—to operate their own distribution company.
Despite all the hurdles, the green rush in California marches on, with investors pouring in from all over the United States. Canadian companies, too, seek to establish a foothold in what BDS Analytics expects to be a $5 billion market in 2019.
Whether the West Coast ever gets its overproduction issues under control probably has less to do with state governments than with the feds. Ultimately, the only thing that will help stabilize markets and temper glut is an end to federal prohibition. If and when that happens, the West Coast's oversupply will be able to provide the whole country with top-notch, sun-grown weed.
In Oregon, as the state wades through hundreds of new applications for would-be growers, the farmers already licensed and producing continue trying to figure out how to survive in a market that's been topsy-turvy and uncomfortably competitive.
"I try not to be dire and remind people we're subject to the same whims as any other agricultural commodity, but my hope is we'll see the market adjust itself so people can survive," said Margolis, the attorney. "It's a 'don't panic' message. I know that's hard to hear, because some people are losing everything, but I'm hopeful there will be some stabilization."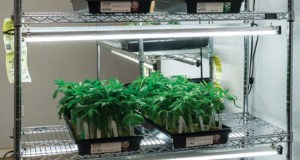 Photos by Mike Rosati.