If interstate cannabis commerce becomes reality, longtime hydroponic cultivator Daniel Wacks will be well-positioned to take advantage. He's already on the way, with interests in both his California home base, where his State Flower Cannabis operation is a well-known merchant of bespoke weed, and over the mountains in Nevada, where he's poised to become a retail powerhouse through his partnership in a high-end The Apothecarium franchise.
But even if Wacks eventually becomes a national player, "California" will always be his brand. Whether selling his well-regarded flower to natives or tourists in Las Vegas, he tries to capture people who are into California classics. Wacks says that includes "strains that have been around for a very long time," such as Lamb's Bread, as well as new strains that are bred from old standbys. Even in Vegas's The Apothecarium outlet, Wacks and his partners play up their California roots—partly because so many of the tourists there come from California, but mainly because stamping everything with "California" moves product.
All of State Flower's plants are grown hydroponically indoors, across 60,000 square feet of space in San Francisco and Las Vegas. The environmentally friendly weed is fed a proprietary blend of bio-mineral nutrients and beneficial microorganisms. Plants are flushed with water for two full weeks before harvest, slow-dried for another two weeks, and dry-trimmed by hand. "We make sure machines never touch our product," Wacks said.
That doesn't mean he's opposed to machine trimming as a concept. State Flower also offers consulting services to cultivators, and Wacks serves on the advisory board of Presidio View Capital, a cannabis investment firm. He said he works with plenty of cultivators who use trimming machines. And, though he's personally wedded to indoor cultivation, he also works with cultivators who grow outdoors. "I love all kinds of grows," he said. "Outdoors, vertical farms, greenhouses—but State Flower is an indoor brand."
That won't change and, at least for now, hand-trimming will remain a calling card for State Flower, as it fits the company's overall vibe. Hand-trimming is the best way to ensure the job is "done properly," Wacks said. But even he admits that likely won't last forever. Trimming machines are constantly improving, and they're more economical than human labor. At some point, relying on hand-trimming will become a competitive disadvantage. "Full automation is coming eventually," he said. "It's not something we're very excited about, but it's an inevitability."
He's putting off the change for as long as he can. The company still assigns all new employees, executives included, work in the trimming room because it gives them a visceral understanding of the product. Wacks said he wants State Flower employees, some of whom he hired from companies like Apple and Google, to start at the end of the production process and work backward from there.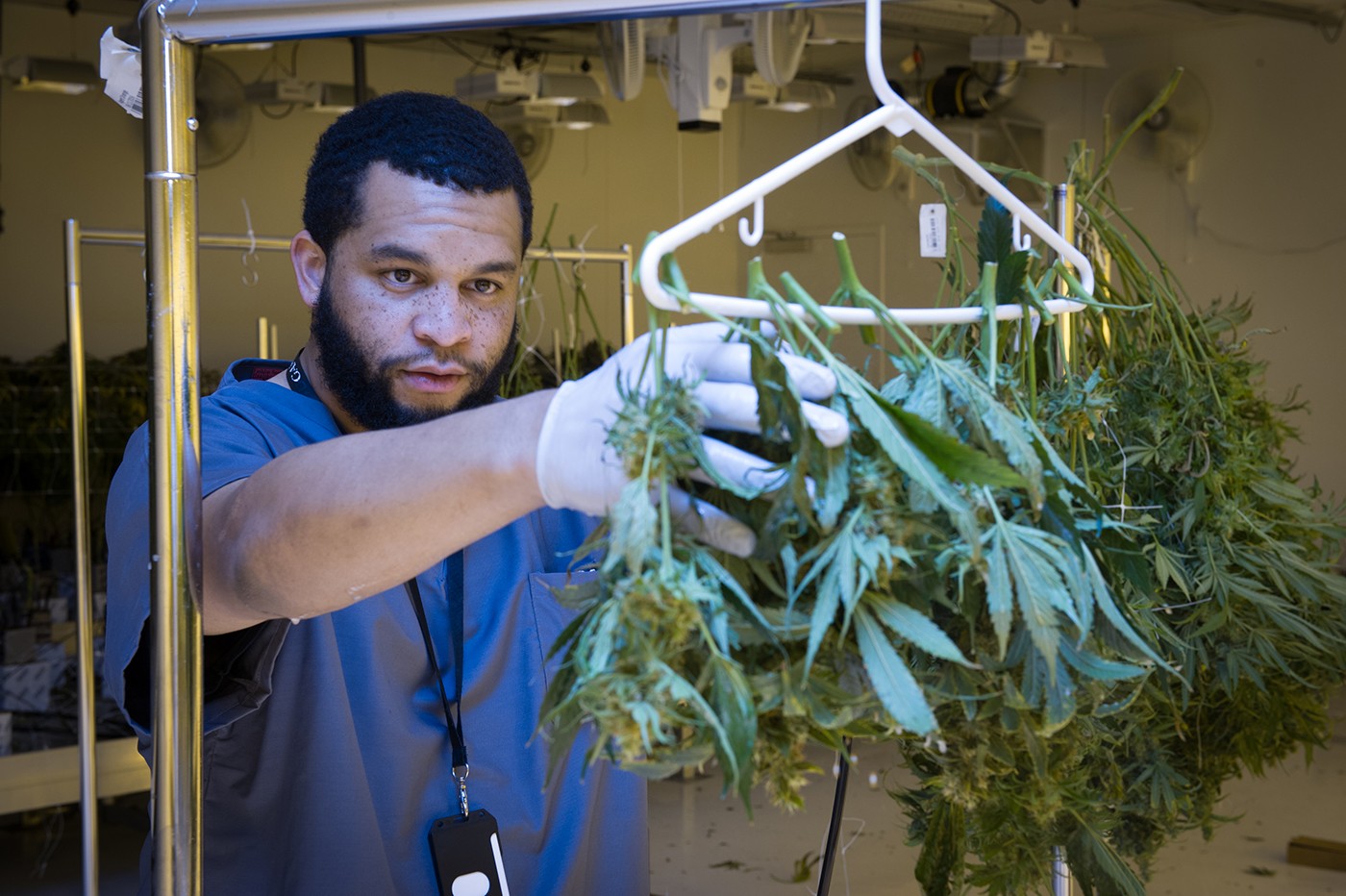 That approach—a hyper-focus on the end product—is applied throughout the company. It's why State Flower grows plants in five-pound batches or less and why the cultivator became the first certified by Envirocann (a sort of Good Housekeeping Seal of Approval for cannabis) in both California and Nevada. All of State Flower's plants are grown free of synthetic pesticides and chemical growth regulators in recycled (and recyclable), 100-percent compostable grow mediums developed by Grodan, a mainstay in sustainable agriculture. State Flower's green ethos also extends to the cultivator's heating, ventilation, and air conditioning systems, from which it reclaims water for reuse.
Wacks has worked in cannabis his entire professional life. He began his adventure while a student at the University of California, Santa Cruz, growing plants in his apartment. Eventually, he formed a medical cannabis collective in the city. "I was in the right place at the right time," he said. Next, he moved north to the Bay Area, operating in Oakland and Santa Clara. Onerous regulations in the latter municipality pushed him to move operations to San Francisco, where he first collaborated with The Apothecarium. Wacks formally established State Flower in 2015, and growth since then has been rapid, to say the least.
Partly, that's because a seasoned company like State Flower, with the means to invest, is better positioned than smaller operations to deal with governmental regulations imposed by states allowing recreational sales. California's testing and certification requirements, in particular, have taken a lot of pot off the shelves since new regulations took effect in July. "Due to market demand and limited availability, State Flower has been able to increase its sales price by 20 percent since July 1," Wacks said. "We're sold out through the end of the year." Meanwhile, demand continues to grow. To meet it, "we are in the process of expanding our facility to produce five times our current volume," he revealed. 
The situation is similar in Nevada, where Wacks owns three licenses even though regulations are tough and licenses aren't easy to obtain. "The level of sophistication" needed to succeed in Nevada is high, he said. "The barriers to entry are a helluva lot steeper" than they are in California, so cannabis operations need "deep pockets" if they want to do more than merely survive. This is all great for Wacks but, he freely admits, not so great for small operators who want to run a mom-and-pop-style business or those who don't want the cannabis business dominated by big-money players. Legalizing recreational use, he said, has meant "we've lost some key elements of the history" of the industry, which at one time was dominated by small operators working in a legal gray area. Wacks thinks the current trend will accelerate, with size and hefty financing becoming ever more important. "Larger facilities are just now starting to scale," he said.
In Nevada, he hooked up with friends and vendors from San Francisco to open The Apothecarium in Vegas. (He has no ownership stake in the chain's San Francisco storefronts). Wacks and his team have the exclusive license to manufacture KIVA Confections edibles and Valhalla Confections.
For all the growth and big-money moves he's making, Wacks tries to stay humble and keep his clientele in focus. "Our core demographic is ourselves," he said. In growing and developing new strains, "we try to create what we enjoy."