From disruptive innovation to the wireless and LED explosion, the lighting sector is in a renaissance, delivering record profits and yields.
Late last year, the expo circuit was abuzz when Scotts Miracle-Gro bought the fabled Dutch lighting and hydroponic company Gavita for a whopping $136 million. Gavita, like the sector as a whole, had watched its sales balloon by more than $100 million a year. (Gavita's management team remained in place and the company retains 25-percent ownership.)
Founded thirty-some-odd years ago in Norway, Gavita long has taken pride in being at the intersection of technology, efficiency, and quality. Along the way, the company's marketplace timing appeared impeccable—and profitable. Although the 1000W DE HPS system historically led sales, Gavita executives noticed an emerging trend: Growers realized big is not always beautiful. Ever attentive, the company designed a 750W fixture, and sales exploded. Now imitators, con-artists, and frauds all are trying to take a bite out of sales.
"We have to compete hard against newcomers who have no innovation or development costs whatsoever," said Theo Tekstra, marketing manager for Gavita International B.V. "They just copy the designs themselves. This is called 'disruptive innovation.'"
Currently, the horticulture lighting market is in a grow-and-replace phase. Because there are so many new suppliers, established companies must work hard to keep their businesses growing as fast as the market. When one is deemed "the best," all the others go gunning for it. Case in point: Gavita's double-ended fixtures purportedly are the most copied products in the industry.
"Fortunately, our brand is strong, and more and more newcomers in the industry understand that not only price, but also service, reliability, and support are important for their bottom line," said Tekstra. "Reliability of assets is a big talking point. Plasma sales are also sharply on the rise as there is the growing awareness that producing a high-quality crop results in a much better market position. Lastly, we see much more professional horticultural automation in projects."
Alan Lien, president of Solis Tek Inc., has taken a different approach to the market and created a fixture that is suitable for what growers and operators need in an indoor greenhouse setting. The "light diet" offers four different lights to use at different parts of the grow cycle.
"With the legalization of cannabis and the type of money and investments coming into this space, more pressure is being put on growers and operators to really dial in their facilities and make sure they operate in the most efficient way possible," Lien said. "Lighting technology advancement is going to be a huge part of that. Right now, there isn't another company outside of Solis Tek that has come out with the technical and scientific innovation intended to increase yield and [return on investment] specifically for cannabis."
Apparently, the market approves. In the first quarter of 2017, Solis Tek. reported record revenues of $2.9 million, a 12-percent increase in revenue year over year.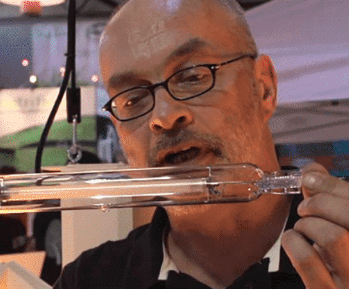 A Few Stars Are Born
Nanolux Technology Inc.'s much-anticipated 950 CMH will hit the market in September. The forty-year-old company, which boasts more patents than any other lighting brand, is in a spirited growth phase, and with the 950 it's taking a giant step forward in energy-efficient lighting.
"We are working on expanding our wireless control system and adding additional modules so the room can be controlled remotely," said Nanolux Sales and Marketing Manager Emily Walter. "These products can be used as standalones or in conjunction with our NCCS software."
Nanolux has gained a reputation as a vertically integrated outfit: The company performs its own engineering, manufacturing, and distributing. This allows Nanolux to change, update, or create new products based on user demand. Integration also allows the company to provide robust customer service and have inventory readily available at three warehouses in the United States.
For Erik Elder, sales director for Global Garden Company, the most exciting thing in lighting right now is ceramic metal halide (CMH) technology. As opposed to traditional high-pressure sodium (HPS), which has been the industry standard, CMH lamps provide a full spectrum of UVA and UVB while fewer watts and producing less heat.
"The fuller spectrum of light increases overall health, growth, yield, resin, trichome, and terpene production," said Elder. "With CMH, you get a superior product come harvest time at a significantly reduced cost. In addition, because of the paradigm shift to automation in cultivation, we are seeing more intelligent lighting controllers that communicate with humidity and temperature sensors to regulate, schedule, and control lighting based on what is happening in the grow room environment."
With the launch of the DimLux brand, "the Ferrari of the light industry," Global Garden has experienced explosive growth, Elder said.
"Having the highest-performing lighting system on the market, in both performance and automation, has allowed us to grow our team to meet the ever-increasing needs to support the demand," he said.
The LED Train
"Today, the lighting sector is very dynamic, mostly because LEDs are beginning to take over and their efficiencies should continue to increase steadily for the next decade," said Eric Harrington, commercial sales manager and technology evangelist for California Lightworks. "Lighting just gets better and faster than virtually any other factor in growing. Remember, it's the second largest input after manpower, so that's exciting."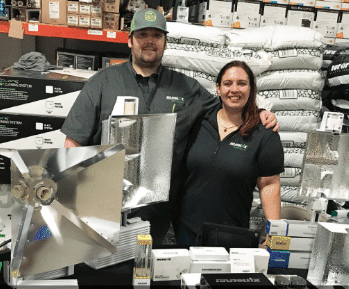 The company's SolarSystem 550 has made a huge impact on the market, in terms of both technology and value. With a 400W light in commercial quantities dropping in price to below $1.50 per watt, it's not only a profit driver but also creates impressive ROI. In most markets with 10- to 12-percent electricity, the system will pay for itself in about two years, Harrington said. That's a 50-percent return on investment.
"I challenge you to get that return on any other investment…short of some insider initial public offering," said Harrington.
Making it an even better deal, the company's hybrid-spectrum-control design merges the best of full-spectrum lights with the science of photosynthesis. Next up for the company is a UVB lamp reputed to increase THC by 25 percent.
"It's a new bump in LED efficiency that will take us to above 2.3 umol per joule. That is going to be a game changer," said Harrington.
Matthew Price, operations manager for KIND LED Grow Lights, is experiencing the same excitement. Grow lighting technology has remained largely unchanged for decades, but now arguably is one of the fastest evolving sectors in indoor gardening, thanks, in part, to LED advances.
"While there have been an impressive number of LED grow light companies joining the industry, all with their own take on this developing technology, we feel KIND LED has helped shape the standard of excellence in LED grow lighting," said Price.
Currently, the company's best-selling product is the UL-certified XL series. The product has been in extraordinary demand because KIND nailed the spectrum.
"Our twelve-band complete perfect spectrum gives growers' plants everything they need in terms of lighting, creating the most efficient grow light on the market," said Price. "With the inclusion of far-reaching wavelengths outside the PAR range, such as [ultraviolet] and [infrared], we have been able to reach new echelons in harvest quality."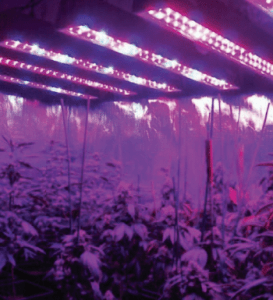 To be sure, this is an exciting time for the lighting sector. With revenues up and technology improving, almost everyone is bullish on the future. However, obstacles and misconceptions remain. One of the biggest misconceptions about grow lighting is that brighter is better. In reality, simply recreating sunlight doesn't necessarily produce the best results. Plants have particular lighting needs and use specific wavelengths in varying quantities within the photosynthetic range. Traditional grow lights may have a high-wattage light output, but nearly half of that wattage is wasted in the emission of light wavelengths plant use very little of.
In the end, despite all the advances and innovation, finding the right lighting arrangement remains a difficult task. No one solution fits every situation, so homework is key to producing the best harvest.