Justin Calvino is a gentle family man with an uncompromising vision to embed regenerative design practices into the fabric of Mendocino County.
Justin Calvino's life is a moveable feast of the highest order. To get a true sense of it, however, you need to set aside all expectations of linear outcome and eagerly enter the maelstrom that is his daily existence. You're not in Kansas anymore, but Mendocino County, a land of ridges and bridges, wineries, waves, and weed. A quiet battle for the soul of the county permeates the region. Say all the great things you want about Humboldt, Sonoma, and the rest of the NorCal cannabis growing regions where the sun is still worshipped, but Mendocino is the beating heart of the Emerald Triangle. No one comes away unmoved by the sheer, pristine beauty of its winding roads and isolated coastline.
That's an outsider's perspective. For Calvino, who moved to Mendocino in 2007, it's about family and the survival of a craft cannabis community uniquely deserving of respect and support. He is deeply rooted in the area—the father of seven beautiful children and husband to Autumn, a certifiable martyr pregnant with his eighth child—and appreciative of its unique qualities. Those he values most include the geographic isolation and the lack of a municipal authority and police force. "There's no government in the village area," he said. "It's very participatory, which doesn't mean easy. It's actually harder when you participate."
Calvino participates. Rushing from task to task, he appears to revel in the opportunities available within the organic social construct of the region. "The ability to become sovereign," he added. "We've got a real shot at creating a true local living economy that sustains itself, creating community choice aggregates for energy, healthcare, transportation, education. I've worked a lot in that space and have used cannabis money to fund regenerative economics studies and modeling for the communities in which we live."
A multitude of projects and plans build upon those words. Vehicles like the Regenerative Design Center, the Emerald Exchange, and the Mendocino Appellations Project are just a few of the interwoven ventures Calvino (and his partners) have initiated and are deeply involved in producing and promoting. A board member of the California Growers Association, Calvino also chairs the trade group's Appellations Committee and is working on a new initiative called The California Cannabis Tourism Association. All this in addition to cultivating, being a dad and husband, organizing frequent local farmers' markets, and playing host to a steady stream of guests at the two local properties where he hosts workshops and demos about live cultivation and other subjects of direct interest to the now and future livelihoods of local craft cannabis growers.
Full Moon Live Resin Harvest
I was invited to attend a live resin harvest in Mendocino on the first night of the full harvest moon in early October. Calvino billed the event as including "an all-star cast of terp aficionados." With one day's notice, I drove from Los Angeles through the night to meet him in the small town of Navarro at 6:30 a.m. It was an impulsive thing to do, but I couldn't pass up the chance to meet legends like hash-maker William "Kind Bill" Fenger, who'd come from Colorado to share his fresh-frozen method for making live resin. Frenchy Cannoli also was in attendance, as were several master extractors and a sampling of the best growers in Mendo, "all discussing the grading and standards for high-end refined cannabis," explained an excited Calvino. "While we're creating these markers for quality, the producers can raise the bar to those levels, to those set standards."
The interest by the gathered was discernibly intense. With flower prices falling, they feel a sense of urgency to begin utilizing the entire plant in order to derive the revenue they need to survive, and that means harvesting the sun-kissed tops famous for producing what Calvino calls "some of the best terp heads in the business. You're capturing provenance, the true expression of that thing in that space. That's the beauty of the live resin process." One can hardly argue the point. In the crisp October night, before the sun comes up, the resin on some of the plants nearly bubbles in the moonlight.
Live resin is popular and can retail for up to $120 a gram, but that's just the beginning of what Mendocino has in store for lovers of fine terpenes. "We're talking about enfleurage," Calvino explained. "We're going to take pig fat from my pigs and put it into an air compressor and spray it on the plants, and then two days later go harvest the pig-fat-laden plants, press them between panes of glass, and bury them in a cannabis cellar. In six months, we'll come back and harvest the pig fat, which was the original perfume process for creating terpene extractions. It's called enfleurage."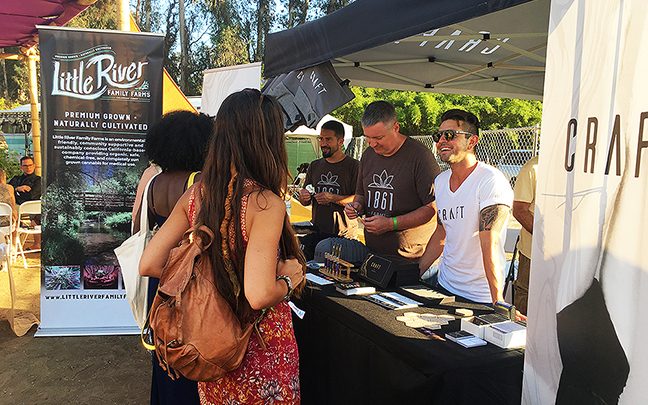 Family
Calvino was born in 1980 in Dover, New Hampshire, and raised mostly in Rhode Island, where he was an athlete in school and the smartest one in class even though he never did any work. "I always had the answer, and the teacher was like, 'Could you just write it down?'" But he was headstrong, and not long for the constraints of school. "I knew there was something different. I always had a question. I questioned everything. I was born with a critical-thinking gene." His genes told him it was time to split, and at the tender age of 16 he lit out and hitchhiked alone to California. "I left and didn't talk to my parents for six months, [because I was] embarrassed that I had left."
He wound up in Santa Cruz, lured by surfing, skating, and cannabis. Over the next four years, he made cannabis his trade. "I started selling weed in 1996 on the street at a place called hippie corner in Santa Cruz," he said. "I also worked Haight Street." A deadhead, he'd met his sources during the band's tours. They remain family to this day. "Most of the weed came from Humboldt and Boulder Creek," he recalled. "I'd hitch up to Arcada and get fronted a couple of pounds." As he learned, his ambitions grew. "From 16 to 18, I was working the streets. From 19 to 20, I was heavily involved in the trafficking part of it, from California to the east coast."
And then, when he turned 20, it all came to an end. "I went clean from 20 to 24. I met my ex-wife and had three kids. She was anti-cannabis trade, so I went back to Georgia, where I owned a landscape design business." The business thrived. "I made more money than I ever made in cannabis. I could sell a thousand pounds a month and not make as much as if I built four swimming pools." But those heady days were not to last.
"I got divorced and sold the company," he said. He had a few million dollars' worth of real estate, but that didn't last, either. "I squandered every dollar on a beautiful college chick, a new house, and an Audi. I was 27, went on a bender for two years, and walked away from everything." Except his kids. "They had new everything. They were members of the zoo, the aquarium, the natural history museum."
He could afford the lavish lifestyle because he had reconnected with cannabis, but something was missing. He had aspirations. His father was an "open-hearted philanthropist with no money" who had been responsible for initiating social equity programs. "My dad and my step-mom were responsible for starting the Social Venture Network, Businesses for Social Responsibility, Business Alliance for Local Living Economy," said Calvino, explaining his activist roots. "Ben from Ben & Jerry's was in my living room most nights. There was a real cosmic connection for creating what we now call regenerative economics: supporting local living economies within communities. So, I linked back up with all of that."
The west coast also beckoned again. "Coming back to California, it was about how do we remediate all the waste from all these homes and turn it into energy and build houses out of it," he said. "I started working with various social initiatives like The Esalen Institute. I was going to a lot of backdoor conferences in San Francisco, and was very active in the Bioneers (biological pioneers) movement. Basically, social movements to enact real change."
Still, his priorities remained focused on family. Determined that his kids would not know a life without him, he spent two weeks here, two weeks there. In 2007, he moved to Mendocino, dividing his time until he could reunite his family two years later. "I didn't move out here full-time until 2009 because of the children, but I was out here with farms and all the stuff."
Regenerative Design Center
In 2011, Calvino founded The Regenerative Design Center in a small building on Ukiah Street in the village of Mendocino. The center serves "as a hub for new ideas and social initiatives by offering a shared office facility and a venue for meetings, workshops, events, and movie screenings." It also functions as the fulcrum for local farmers' markets and swap events, and a lot more.
We're taking small, craft, artisanal farmers, mom-and-pops, and moving them into the branding space. -Jim Calvino about the Emerald Exchange
"The idea in starting a regenerative design center was to start approaching permaculture not just in the garden, but in the community," explained Calvino. "A lot of people are using permaculture principles and applying them to regenerative agriculture to create more abundant and less resource-intensive food systems. But food systems are the low-hanging fruit—the ones we can enter easiest but not necessarily the most impactfully.
"Think municipal waste authorities or energy, healthcare or transportation, education or clothing," he continued. "If you apply the permaculture principals, you have the ability to map these resources. In permaculture, you start out with a resource map: What do I have, where does it exist, how far from where I am is it, and how far is it from where it gets used? So, for instance, if I'm processing apples, I'm not going to put the apple orchards over here and the apple mill way over here. I'm going to flow them through, and I'm also going to put the compost pile in a certain way so that when I'm finished picking, cleaning, and pressing the apples, I can process the waste from the apples, which includes the compost and the soil, which then goes back out to the soil through the composting process.
"You wouldn't draw that in a line but in a circle, because it's all coming back," added Calvino, extrapolating the lesson another few notches. "Other things are feeding off that as well. It's the way galaxies are designed, and the way molecules and cells are designed. All these things in nature are designed in a cyclical manner, because everything's coming back."
The proof is in the pudding. "The Mendocino Appellations Project was born out of the Regenerative Design Center," said Calvino.
Appellations
"The Mendocino Appellations Project is there to create a regulation of standards," explained Calvino, who is counting on appellations of origin to play a big role in the renaissance of Mendocino County as a celebrated source of superlative sun-grown cannabis and a destination for canna-tourists from around the world. "We talk about the plant's epigenetic qualities coming out through their environmental factors. That is amazing and is what we want for the appellation.
"We're collecting data on appellations, moving the research component forward so that we can begin to prove some of these unique identifiers for terroir for these regions," he added. "We have to prove terroir to be able to claim appellation. It will take two years, but we can advertise that we're working on it and show the progress. As the data comes in, we can start to work on all the indicators: the full terpene expression, certain strains in certain regions."
California, which has no experience with appellations, recently hired someone to oversee the process for the state. "We'll meet him soon, and then we're off to the races," said a galvanized Calvino, who explained how it will work. "The state is going to come out and say, 'We believe a petitioned appellation is to these baseline standards.' They could be soil-grown, sun-grown, or sun-grown in a greenhouse.
"The state baseline is going to be the standard that applies to all regions, and then you can create as stringent a standard as you like underneath that standard," he added. "Let's say the state standard is 50-percent native soil and the plant spends over half its life in a non-greenhouse, outdoor environment. We could raise those standards in Albion, say, if we were to claim that it needs to be 100-percent native soil and 100-percent sun-grown.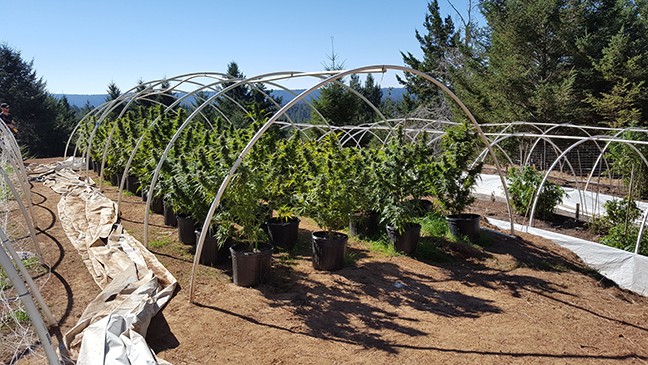 "One of the great things about our efforts moving forward is that we are collecting data, so we can inform true appellation of origin," he continued. "That's what makes this process unique. Once we have appellation of origin defined, we can create these regional heritage zones, and each one of those standards for a sub-appellation can be petitioned for varietals and origin under that appellation of origin. You'll be able to petition for an appellation for as high a standard as you like within your appellation by 2021."
In the end, the project is a no-brainer, Calvino said. "It just makes sense to put things together like value-add appellations," he insisted. "I think of that as a protection. No one can come in and tell us what to do in our region. That's our space, our heritage."
Of course, a product also needs a market. "At the end of the day," warned Calvino, "if we can't sell our weed, we're nothing."
Emerald Exchange
That's where the Emerald Exchange and micro-branding come in. "We're taking small, craft, artisanal farmers, mom-and-pops, and moving them into the branding space, and from the branding space into direct consumer marketing," said Calvino, who, along with partners Michael Katz and Jessica Cure, founded the Emerald Exchange ("From Mendo to Malibu") as a way to put NorCal sun-grown cannabis growers and their products in front of Southern California retailers and consumers. The two-day festival features a complete spectrum of immersive and engaging activities to engage the senses and the mind.
The team has big plans for the Exchange, including eventual distribution of product from north to south. For the foreseeable future, there will be three events annually: in March and November in SoCal, and a summer event in NorCal. Overriding all of it is the intent to brand farmers by their farm into the brains of Southern California consumers.
"Micro-branding is what we do through the Emerald Exchange," said Calvino. "It's going amazing. We have forty-five farms that will have their own jars and separate design. We are a vehicle for them to get into the Southern California marketplace. The more market share we can get to go to traditional sun-grown farmers from Northern California, the more farmers feel called to brand themselves and to create their own cannabis line."
Calvino can bring those who don't want to bother with branding under the auspices of his Green Goat Estates. He currently has five farms onboard, and can accommodate about five more this year. "We'll be making their product into cut flower, oil, and rosin," he said.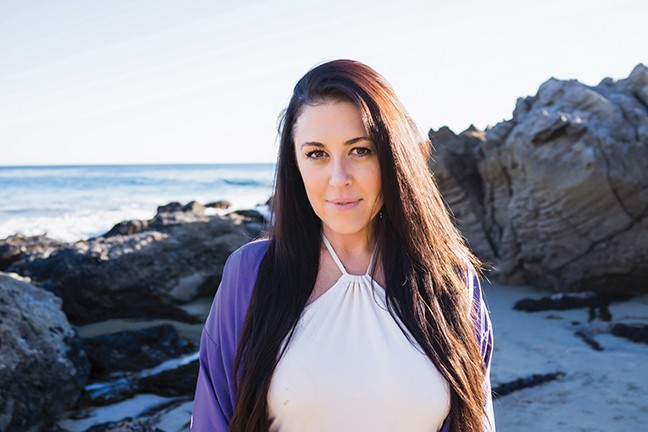 Community
A day or so after the live resin moonlight harvest, I drove back down the 101, unaware of the conflagrations about to sweep the NorCal area, destroying lives, homes, vineyards, and cannabis crops from Petaluma up past Ukiah and beyond. The following week, I spoke to Calvino by phone as I prepared to head back north. He had just returned from helping a grower friend in the path of the fire move his large animals off his property, only to be subject to a multi-agency raid as they were gathering the animals. "They did this because they thought we were on the farm trying to remove crop," he said. Ironically, the farm was one of the few in Mendocino to have already received a local permit. No matter. Under threat of arrest, the men, including the owner of the property, were ordered off before having gathered all the animals. They left with the fire only a few miles away and headed in the farm's direction.
Fortuitously, the farm and its animals were spared, but for Calvino the raid epitomized the state of unease that exists in the county. "We're still public enemy number one in a lot of people's eyes and, unfortunately, they are often the people who matter—the regulators and law enforcement," said Calvino, who cringes at the suggestion people like him need to toe the line or else. "The message that needs to be driven home is that right is relative. You're taking a community that's been jailed, extorted, and essentially demonized by large parts of society. We're still a Schedule 1; still under federal prohibition. We're still under state prohibition.
"The fact is that there are so many people who aren't permitting because they've been pushed back behind these locked gates for so long that coming out makes them nervous," he added. "And the ones that came out this year, a lot of them have been harassed and arrested. So what incentive does someone have to continue in a market that won't support them?"
Calvino is speaking on behalf of his community, which he defines as people like him. "Of course, I'm a pebble dropped in the water to ripple out, but I believe we're all in the same pot," he said. "So, I see my community as people who are like myself and facing similar situations and may not have a voice at that moment.
"I include Casey O'Neill in my community, and he's two-and-a-half hours away," he continued. "I include Terra Carver in my community, and she's over four hours away. Jesse and Chris from Terra Vida are in my community—people like myself who have stepped out into a place that might be uncomfortable to try and survive. Not someone who's riding on the backs of others, who got into the industry because they're trying to figure out a better way for themselves financially, but the people who might go away because all these people just entered in."
We've got a real shot at creating a true local living economy that sustains itself. —Justin Calvino
Eternal Return
Calvino is just one among a multitude of individuals working to save sun-grown craft cannabis as an identifiable and quantifiable value-add in the marketplace, but neither he nor his partners seem interested in participating in the so-called green rush. "Capitalism is messed up, at best," he said while speaking on a panel at a recent trade show, and he means it. Having erred with venture capitalists before, he is not about to make the same mistake again. He doesn't have to.
"One call, and I could have 200 pounds of cannabis down [in Los Angeles] in ten hours, and I wouldn't have to pay for it," he said. "A VC would have to pay for it.
"We already have what we would call equity," he continued. "We have a commodity, collateral, and a supply chain of product. We also have land. We don't need much capital at all, in fact—just enough to start distributing the products we already have to bring money back into the space. We need startup capital to buy the cannabis we already have to put the money back into the entity to then continue to buy that cannabis.
"In other words, we need to bring on a partner who receives something immediately for their investment. What we're telling VCs now is to come buy our weed and you'll have a partner, because we'll keep growing it for you and we'll even give it to you for no money down once we open the distribution channel."
In that scenario, the farmers will retain ultimate control of their destiny by, among other things, creating a community mill so the community can process its cannabis. If successful, and there is no reason to believe they would not be, the benefits would be incalculable.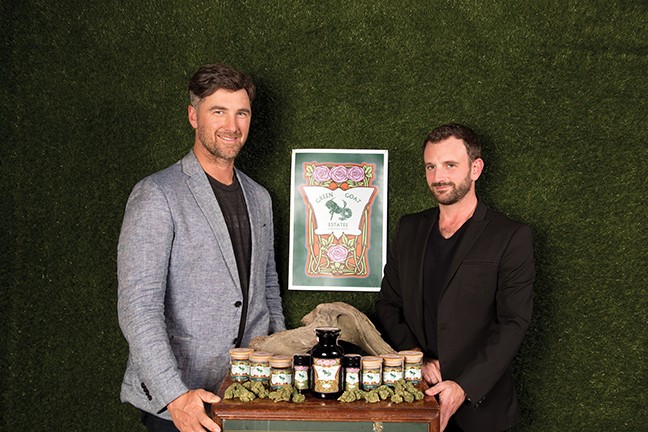 "The goal is to use the sensational nature of cannabis to influence the whole," said Calvino. "For people to look upon the systems that we create in a collective and cooperative manner and then recreate those systems to save the earth, to revitalize industry, to regenerate economies, and to build upon the human genius that exists within each of our communities to survive, become adaptive, intuitive, and own our power once more. It not only can happen, it will happen."
---
EmeraldExchangeCA.com / GreenGoatEstates.com
---