What's in a strain? The power of cannabis flower is the (sham)rock this industry is built on and the pot of whole plant medicine at the end of the rainbow, as an alternative for so much of what ails us.
So, mgretailer has put together a monthly almanac of specialty strains from various growers in legal states, to celebrate their work and craftsmanship. Lucky leprechauns know that spring is about to get sprung, with a little growing o' the green: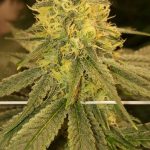 Platinum Tiger Cookies-AlpinStash–Crouching Tiger Hidden Alien female crossed with Platinum Cookies pollen. Smells like fresh lemon bars. The taste is also reminiscent of lemon and the high is "spacey yet productive." A Sativa-dominant hybrid that's visionary and inwardly trippy. Quickly becoming a favorite strain. Colorado. AlpinStash.com.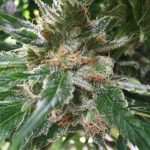 Sister Wife-AlpinStash–20:1 ratio, CBD to THC. Smells of damp earth, jasmine and juicy fruit. High amount of CBD is reported to be effective for inflammation, cramps, combined with low levels of THC (0.05 percent or less) to help relax the mind, muscles. Colorado. AlpinStash.com.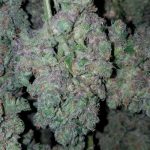 Sparrow King-AlpinStash–Indica-dominant hybrid; a hand-pollenated blend of two artisan strains (Crouching Tiger, Hidden Alien x White Dawg #3), flowers grow sticky, sweet, purple, and pink. Covered in trichromes, Sparrow King smells of sweet flowers & pine. Testing at over 25 percent THC. Colorado. AlpinStash.com.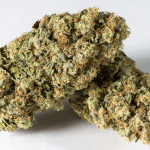 Chem 4-Eco Firma Farms–High THC strain, reportedly with success in treating pain. Chem 4 is high in plant compound beta-Myrcene; combined with THC this strain appeals to patients with chronic pain. THC levels in the high 20 percent range and powerful terpene profile. Best for evening use. Oregon. EcoFirmaFarms.com.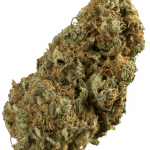 Maui Bubble Gift- Eco Firma Farms–2:1 ratio, CBD to THC. Maui Bubble Gift is a popular medicinal strain. Cannabinoid and terpene profile seems to treat people with diverse medical issues. Patients reportedly have used it for symptoms associated with Parkinson's disease, cerebral palsy, and cancer. Oregon. EcoFirmaFarms.com.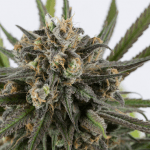 Snoop's Dream-Eco Firma Farms–Great strain to start with, for those wary of anxiety or paranoia sometimes associated with cannabis use. A cross of Master Kush and Blue Dream, the terpene profile is suited to someone who has anxiety, PTSD, or panic attacks. Relaxing. Oregon. EcoFirmaFarms.com.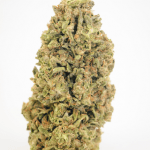 Pineapple Jager- East Fork Cultivars–Bred by combining Southern Oregon strain Jager (aka Purple Hindu Kush) with Pineapple Tsu. The result is a 3:1 CBD-to-THC with a diverse range of terpenes. High terpene content rounds out cannabinoids, for potent yet comfortable effects. Notes of tropical fruit and fuel. Oregon. EastForkCultivars.com.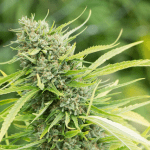 Ringo's Gift-East Fork Cultivars–A CBD powerhouse named after the late Lawrence Ringo, a pioneer in CBD-rich cannabis breeding. Ringo's Gift has been noted for its alleged association with clear-headed pain relief. This variety produces a dense flower and peppery nose. Oregon. EastForkCutlivars.com.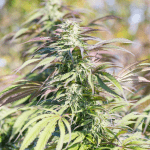 Strawberry Satori-East Fork Cultivars– A THC-dominant variety; contains high levels of linalool, a terpene found in lavender. Early evidence suggests linalool may be effective in treating anxiety and stress, particularly in patients with PTSD. Large flower structure, with "a savory fruit nose, backed by notes of leather." Oregon. EastForkCultivars.com.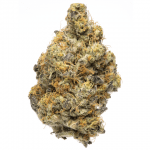 Wedding Cake-Garden of Eden– Wedding Cake is described as "mesmerizing" and "endlessly beautiful" with frost and resin that exceeds expectations. Bred by Seed Junk Genetics owner JBeezy, cultivated by Growing Passion, and available from Hayward, CA-based Garden of Eden. Tested by Excelsior Analytical. California. GOE.menu.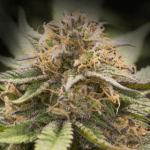 Blue Dragon Desert Frost-Yerba Buena Farms–Grown from a single seed gifted to Yerba Buena by a patient who said the strain was effective for her anxiety and pain. This CBD-dominant hybrid tests in at 15-18 percent CBD and 1 percent THC. Trichomes-laden purple flower bring subtle euphoria and relief. Oregon. YerbaBuenaFarms.com.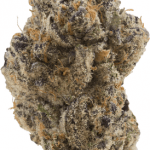 DoSiDo-Yerba Buena Farms–Potent, with an immediate calming body effect, coupled with a heavy mental space that is deeply relaxing, offering instant pain relief to many. With trichomes-caked flowers, this strain boasts a rare non-Myrcene dominant terpene profile, with nerolidol and limonene. Oregon. At YerbaBuenaFarms.com.