As recreational marijuana markets roll out, how will the Green Rush change retail?
Those not lucky enough to be there in person saw the media reports: On July 1, 2017, the first day of recreational cannabis sales in Nevada, long lines of eager, excited customers waited at dispensaries under the blazing desert sun. Dispensaries opened at midnight to celebrate the beginning of adult-use sales. National and local news crews covered the historic event, just as they did in Colorado in 2014, followed by Washington State and Oregon, as well as Massachusetts, Maine, and Alaska. Nevada was the fifth state to go recreational.
By July 4, Independence Day, media reports made it seem as if every bud in Nevada had gone up in smoke, maybe because of high demand. Lady Luck smiled on Nevada dispensaries, it seemed, as long as the flower kept flowing.
"That was a distribution problem, as opposed to a product-supply problem. There always has been enough products, but the issue that got publicized was related to distribution," Andrew Jolley said. Jolley is founder of Las Vegas dispensary The+Source and a member of the Green Ribbon Advisory Panel working with the state to develop policy and regulations for the cannabis industry.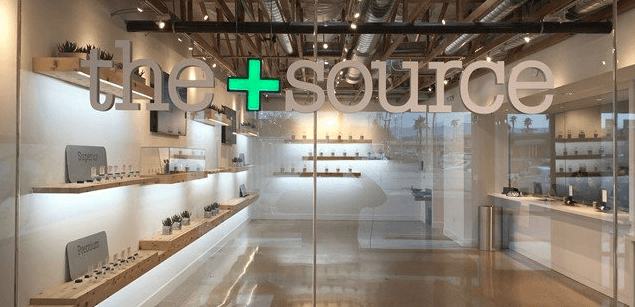 "Nevada, with the implementation of recreational sales, created a new license category called Distribution. The distribution companies transport the product between the growers and dispensaries, and those people, since they weren't already up and running for medical, they weren't able to get up and running or licensed in time," Jolley explained. "There was some fighting and disagreement about who should be able to distribute and how that would work. Ultimately, the Department of Taxation was able to accelerate the time frame, to get some companies approved to distribute. I'm not aware of any companies that completely ran out of product. I've heard stories of people running out of specific products, but not all inventory."
California, the sixth largest economy in the world at $2.6 trillion (a little less than the U.K.), is poised to start recreational sales January 1, 2018. While Colorado continues to be the gold standard for implementation of a successful state regulatory scheme, a smooth roll-out in California may help accelerate recreational sales globally by establishing what experts predict will be the largest U.S. market—and a very competitive one. To promote growth, state officials in Oregon and Nevada have taken a proactive, even supportive, role in implementing regulatory infrastructure for the legal cannabis industry, and many speculate California will do the same as its regulatory scheme is put into place.
But, if you're making long-term plans for your existing storefront dispensary in any legal state that isn't already doing recreational sales, you're probably trying to imagine what recreational retail will look like when it finally happens in your area.
"The recreational program has done really well and has been successful because it built upon the regulations in place for the medical program here in Nevada." —Andrew Jolley, The+Source
Jolley pointed out Nevada was in a unique situation. The time span between permitting medical dispensaries to open and starting recreational sales was fairly short, allowing state government to implement a comprehensive regulatory scheme based on existing statewide medical regulations.
"Our first store opened on December 10, 2015. The very first dispensary in Nevada opened the summer of 2015, so I think we were maybe the fifth store to open," Jolley said. "Then in November '16, [recreational use] passed in the election. Our state department of taxation decided to jump-start recreational sales by creating the Early Start Program, and that began July 1 of this year. Compared to Colorado, or even California, it was a pretty accelerated timeline. The recreational program has done really well and has been successful because it built upon the regulations in place for the medical program here in Nevada."
With less than six months to go, does Jolley think California is ready for the recreational Green Rush of 2018?
"In California, you have a very long history and a patchwork of medical laws and regulations, but nothing's consistent throughout the whole state," Jolley said. "Whereas in Nevada, when they started allowing dispensaries for the first time—they passed medical marijuana in our state seventeen years ago, but they didn't allow dispensaries until '15, and from that point forward it's been very structured and organized, and heavily, heavily regulated."
Even while other states' lawmakers thrash out regulatory legislation and voters decide what they're willing to approve, dispensary operators need to be a few steps ahead of the retail game when the recreational bandwagon finally rolls into town.
Staffing Up
"Recreational cannabis sales began in Oregon on October 1, 2015, when the state first allowed medical shops to sell to the general public [21 and older] in limited quantities. That was a big spike in traffic for everyone," FarmaPDX co-owner Sam Heywood said. "Later, in November 2016, shops like ours began to switch their official licensing from medical to recreational. Most shops saw another, smaller spike at that time.
"From the outset, it was clear to us that legalization was inevitable in Oregon, so we designed Farma with that in mind. To us, the most essential question was 'What would we look like if prohibition never happened; if the federal government hadn't spent decades branding cannabis for us?'
"The answer to that question might seem obvious now, as sophisticated cannabis brands begin to emerge, but at the time, in early 2014, it wasn't so clear," Heywood continued. "Most people thought that if they avoided Bob Marley posters and cartoon pot leaves, that was progressive. That was good enough.
"We knew that in order to create a space that our friends and family would want to visit, we had to do more than avoid clichés. We had to address people's needs. That meant a bright, inviting space, clear information, good design, and—above all—capable and informed staff."
Heywood, Jolley, and Cannasseur founder Ryan Griego all agreed: Staff up dispensaries prior to the launch of recreational sales.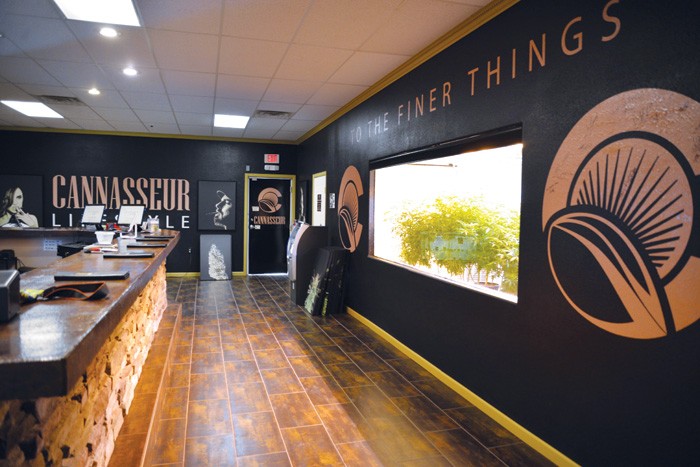 At Cannasseur, located in Pueblo, Colorado, "we added security and hired four more staff members [budtenders] once we opened [for recreational sales], to handle the volume," Griego said. "We had prepared adequately in the beginning, but we did add armed security after seeing the high volume of customers."
Jolley said The+Source increased security staff, too, and added some structural enhancements. "We actually purchased new vault doors for our vault," he said. "We have twenty-four-hour security physically there, and added people to the security team. But, thankfully, we haven't seen any increased issues, or any at all. We've had zero issues since we started retail sales. We did take some steps to make sure we were prepared for that, but we haven't had any incidents.
"I will say, just hiring and training staff and the distribution issue have been the two biggest challenges we've encountered, and thankfully we've been able to find resolutions to those challenges," he said.
Heywood said, "One day we were a relatively quiet medical shop, and the next we were a bustling retailer. So, things like traffic flow and point-of-sale access became issues overnight. The most pressing need, however, was staffing. We realized immediately that we needed to hire more people.
"We hired and trained several new staff members before we transitioned to recreational sales. That turned out to be the single most important step we could have taken," he added. "The single best thing you can do is hire great people. While it's not terribly difficult to source great product, at least in a market like Oregon, it's a tremendous challenge to give your customers an amazing experience, consistently, every day. And that begins and ends with your staff."
Running Some Numbers
Once recreational sales were allowed in their states, each dispensary owner said profits increased, which is no surprise. But Griego cautioned against getting carried away with inventory.
"Don't get excited and buy too much low-grade bud. Stick to the basics," he advised. "Flower [55 percent of sales], concentrates and vapes [25 percent], and edibles, topicals, et cetera [20 percent]. We started with 100 pounds of flower and sold out of that in three weeks. Flower is still the largest seller over all other items.
"There were far more tourists than we expected for the first two years, and then it slowly became more locals," Griego continued. "When we first opened up in 2014, business was 60 percent tourist and 40 percent local. Now, it's about 80 percent local and 20 percent tourist.
"Hopefully, you also have your own grow and extraction lab; this has been a big margin booster for us," he added.
Oregon business boomed for Farma, according to Heywood. "We saw a ten-fold increase in traffic when the adult-use market launched in Oregon," he said. "We did have a run on product, particularly flower from our most skilled producers. Fortunately, we have great relationships with our vendors, and we were able to anticipate and meet the increased demand. It certainly helps that we're located in the epicenter of the consumer market in southeast Portland. That gave us access to distribution and made it easier for us to replenish inventory."
Jolley said, "After the initial novelty wore off [at The+Source's suburban Las Vegas location], we haven't really seen lines. We've seen a significant increase in business, but we are handling customers without a problem. That's true for other stores, too, not just us. We've seen about a three-times increase in our volume of business."
All three operators agreed having a solid point-of-sale system is essential, as is operating several cash registers to accommodate peak periods and shorten customer wait times. "The POS were designed with high volume in mind," Griego said.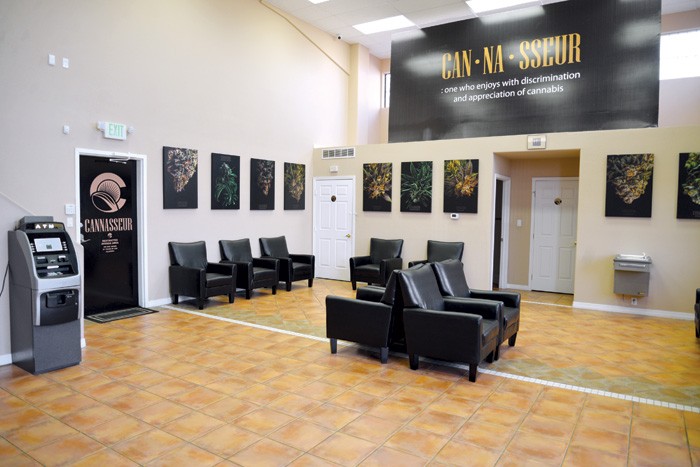 Cannasseur had retail in mind from the early design stages, he noted. "We built a very large waiting room, as we were going to be one of four recreational stores in Pueblo County when we opened," he said. "We also built separate entrances and exits into the dispensing areas, and both proved to be great decisions.
"We added accessory and apparel racks in the waiting areas to allow customers to shop while they waited," he added.
Though FarmaPDX's business model and storefront were designed with retail features factored in, Heywood said the company made a few adjustments after recreational sales took effect.
"Most of the changes we did make were incremental: more staff, more points of sale, more inventory, and more products aimed at serving casual users, like low-potency edibles," he said.
Jolley said the Vegas store "made some minor tweaks [to the show floor and display area], but the biggest change we made was adding staff. We almost doubled our staff after July 1. But we had seven checkout stations previously, so we just make sure that we have enough manpower and staff at all times, to be able to run all seven checkout stations.
"We extended our hours quite a bit," he added, "and we also started online ordering, so our customers can place an order online and either have it delivered or pick it up. That's helped to alleviate the pressure at the cash register, as well."
The Recreational Animal
What happens when casual consumers are taken out of a quasi-legal (formerly black) market and allowed to behave like mainstream consumers in the full light of day? In-store data is anecdotal and varied, but informative.
"Medical patients—number one, they spend more money," Jolley said. "They buy a different profile of product, but there's a lot of overlap. So, for example, about half our sales are flower. That was true under medical[-only sales], and it's true under retail.
"But what we're also finding is that the recreational customer is more interested in edibles and vapor pens, and they're looking for more discreet ways to consume," he said. "Maybe their roommate doesn't smoke or spouse doesn't like it, so they're looking for more discreet ways to consume. I don't see medical patients be as concerned about that. They're, by and large, using these products for medical purposes, and they kind of have to do what they have to do, whereas retail customers are consuming cannabis different ways with different people in different settings, and the products they're purchasing reflect that."
In Portland, Farma has become a multi-generational destination for cannabis enthusiasts, young and old, according to Heywood.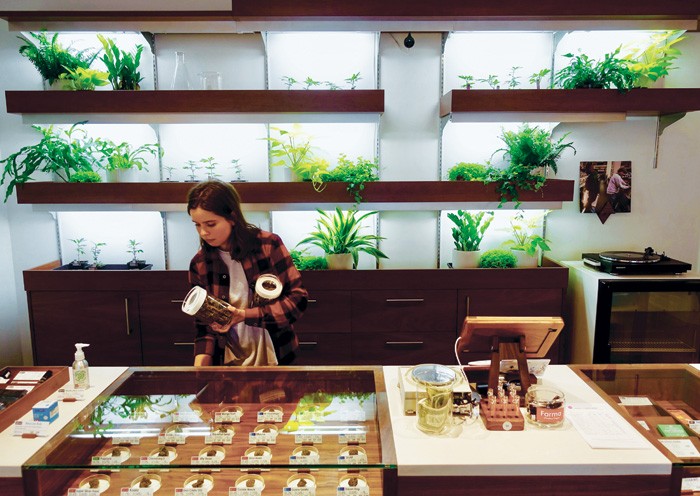 "We've been pleasantly surprised by the number of families who come in together," he said. "It's really fun to see older parents being led through the world of modern cannabis by an adult child. It's a bonding experience for them, and we enjoy being part of it."
Oregon's consumers walk in the door semi-educated about cannabis, he noted, "The West Coast, and particularly Portland, has a deep and knowledgeable cannabis culture," he said. "We see a lot of growers and longtime users in our shop. We also see a lot of tourists, too."
In Colorado, cannabis tourism created a tsunami after the first big adult-use shockwave. By setting pioneering standards in cannabis regulation and sales, Colorado became a big, green guinea pig. Everyone is in learning mode, especially newbies and tourists. Griego said many new consumers require solid recommendations and lots of customer service.
"[New customers] mostly have no clue what to buy, so make sure your budtenders are well-trained salespeople and have adequate knowledge about how to recommend products," he advised.
Advertising and Promotions
The Las Vegas Sun recently quoted Jolley about the topic of cannabis advertising at Vegas' McCarran Airport and his work with the Green Ribbon panel. While cannabis advertising isn't allowed at much-traversed McCarran, cannabis ads recently appeared in Allegiant Airlines's inflight magazine and in in-flight video ads on Virgin America. But The+Source didn't change its advertising scheme much in order to lure recreational customers.
"We're primarily geared toward locals, and we only see about 20 or 25 percent of our business coming from visitors [to the city]," Jolley said. "We don't do a lot of billboards and that kind of thing. We advertise on Leafly and Weedmaps and have a strong online presence, but we don't do a lot of traditional advertising. We rely mostly on word of mouth. We're very fortunate to have a lot of very loyal customers, and they're the best source of advertising, to be honest with you."
Promotions are a great way to generate goodwill advertising, which is an important promotional component that's often overlooked. Unlike other advertising, word-of-mouth really must be earned by providing a special product or service.
"We do some of that, for sure," Jolley said. "We do what we call 'snap sales,' so if we find a good deal, for example, on a particular strain, we'll promote that and sell it for cheap. Things like half-ounces at a discounted price, or we'll do [buy one, get one offers] or deals on pre-rolls or whatever. We also produce our own line of vapor pens and vapor cartridges, so we promote those, as well. And, of course, we still have deals and promotions that we extend to medical patients and will always keep those around."
Heywood promotes customer loyalty with promotions and sales, as well, and makes sure the store has covers both recreational and medical customers. "We give discounts to medical patients," he said. "That will always be a core part of our ethos, and it's something recreational users understand and appreciate. We also offer a customer reward card to everyone who comes through."
To us, the most essential question was 'what would we look like if prohibition never happened; if the federal government hadn'tspent decades branding cannabis for us?" – Sam Heywood, Farma PDX
Griego said, "Cannasseur does all of the above. We offer weekly specials—generally products we are overstocked on. We also do local and out-of-state specials to be sure to include everyone. Our customers love our $19-a-gram concentrate deals and our 50-percent-off top-shelf flower."
Next Steps
It's evident recreational sales will change the face of cannabis, but will cannabis change the face of retail sales? On a multibillion-dollar roll, many think the industry eventually will gain enough momentum to change small- and mid-sized retail businesses, or even larger society.
Going forward, will industry leaders honor the out-of-the-big-box thinking that drove the industry to this point? Is it not if, but when cannabis reaches the status of fine wines, with appellations and vintages? The process continues. Between the rush to market and the slow, cumbersome process of legislation and policy-making, a nuanced approach to adult-use cannabis is beginning to emerge. While progress seems to have taken forever, it's happening faster than you think. Astute dispensary owners know everything about recreational rollouts will require a nuanced approach to meet the needs of a diverse cross-section of clients from newbies to OGs.
"We take a special interest in getting those more casual users up to speed on the nuances of this plant," Heywood said.