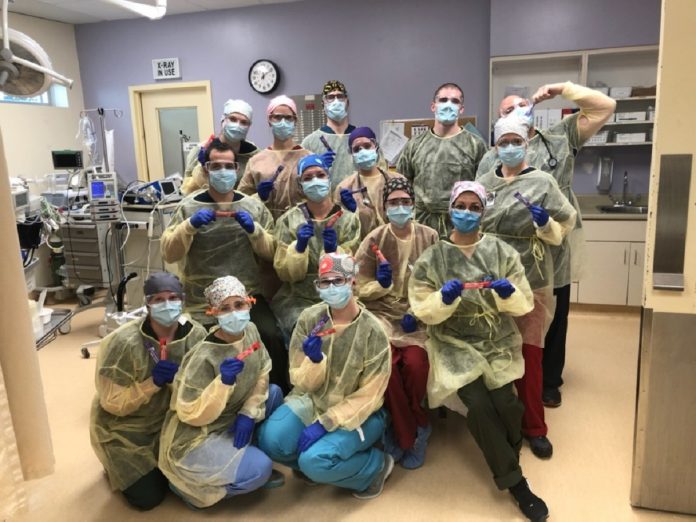 Ed. Note: This story is part of a continuing series about the cannabis industry's humanitarian efforts during the coronavirus, COVID-19 pandemic.
---
Warm weather and a uncertain economy have pushed officials and lawmakers to lift some pandemic restrictions, despite warnings from public health officials that COVID-19 deaths may spike as a result.
With no vaccine or clear strategy for containment in sight, business owners and employees face daunting, overnight changes to fundamental aspects of doing business. This week's upcoming unemployment report for April is expected to break records; economists surveyed by The Wall Street Journal predicted job losses for the month to number 22 million newly unemployed Americans.
Social equity advocacy group Hood Incubator launched a Change.org petition campaign asking members of Congress to take action for business owners who have been formerly incarcerated, and to ensure pandemic relief funding access and programs for equity program applicants.
An extension of the CARES Act's small business relief program is currently being reviewed by Congress and contains legislation that, if approved, would allow legal cannabis businesses to receive some federal pandemic relief. But formerly incarcerated individuals have been excluded, said Hood Incubator, at a time when the COVID-19 crisis has hit people of color and marginalized communities especially hard.
"Quick action and a unified front are critical in raising the issue of the exclusion of equity operators from essential relief," the group's statement read.
As part of the nonprofit's efforts, it asked for signatures to the petition campaign page, as well as for individuals to contact their representatives to advocate for inclusion.
Trade organization the California Cannabis Industry Association (CCIA) is fundraising for Meals on Wheels and the California Partnership to End Domestic Violence, and will match donations made through its GoFundMe campaign. The CCIA 420 Cannabis Cares Fundraiser has raised more than $1,600 of its $5,000 goal and CCIA will continue to match donations through May 6, at 5 p.m. PST.
The organization added to its pandemic relief efforts, and also announced, "Along with the aid we are raising for our fellow nonprofits we understand the financial constraints our members are facing and want to extend a special offer to our community—20 percent off your membership with CCIA."
CCIA is offering the discount to new and current members until the end of May. Equity applicants in California can contact CCIA to receive up to 50 percent membership discounts.
Arizona-based cannabis brand Baked Bros. announced it would donate a percentage of sales for the month of May to local domestic violence nonprofit A New Leaf.
"While half the world is in lockdown, the economic and social stressors of this virus are increasing violent behavior in domestic violence (DV) perpetrators," the company said in a statement. "At the same time, DV shelters are experiencing unprecedented numbers, with many being forced to close their doors. Those that have been able to keep their operations open are overwhelmed and gravely under-resourced.
"Baked Bros. … set a goal to raise $50,000 for A New Leaf's domestic violence program. [We] are encouraging all sectors of the cannabis community, as well as the wider community, to contribute to this important effort. All funds raised go directly to A New Leaf," the company added.
Donations can be made at the company's GoFundMe campaign page.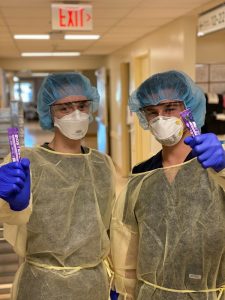 Sports wellness brand BioSteel Sports Nutrition, Inc., a subsidiary of Canadian cannabis conglomerate Canopy Growth, pledged it would donate $2 million dollars worth of BioSteel Hydration Mix to hospitals, front-line workers, and patients, in an effort to provide healthy hydration support to individuals especially at risk.
"BioSteel has committed to donating up to $2M of our Hydration Mix to front-line workers and hospitals during this pandemic," BioSteel co-founder and co-Chief Executive Officer Michael Cammalleri told mg. "We want to make sure that these incredibly heroic individuals are staying healthy and hydrated."
"We need to rally around our front-line workers who are currently putting themselves at risk to keep the rest of us safe, and we want to acknowledge their heroic efforts and support them as much as possible," added John Celenza, Cammalleri's co-founder and co-CEO at BioSteel. "The doctors and nurses that have reached out to request our product, and the experience my family has had with the virus has inspired us to support the front-line."
Healthcare organizations and employees interested in receiving Hydration Mix may contact [email protected].
California-based payroll and staffing company Amtec is offering a month of payrolling services at no charge to businesses, in response to the ongoing coronavirus pandemic.
"In light of this dramatic economic downturn, we are offering our payrolling services at no cost through May 31," said Amtec Chief Executive Officer Scott Kuethen. "It is our hope and prayer that this will help participating companies survive in the short term and thrive as our economy begins to rebound.
"Many companies are not aware of these services that can help streamline business and save internal operating costs. Our decision to help by eliminating our markup for payrolling services is intended to keep more people employed as long as possible," added Kuethen.