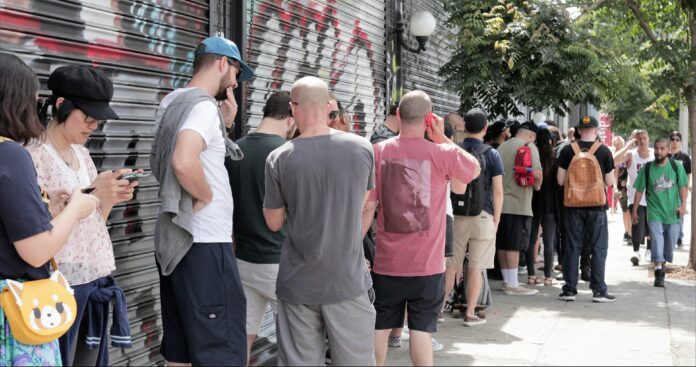 LOS ANGELES — The weather was hot, but that did not stop hardcore fans of functional art and cannabis concentrates from traveling downtown to attend the 2018 Puffco Art Show, which turned an empty warehouse into a high-end, glass-art gallery and retail experience. At least a hundred people spanning ages and walks of life lined the sidewalk waiting for the doors to open at 3pm Saturday.
Inside, they had the option to get in line to purchase Puffco products (some pre-release and debuting at the event) or quickly lay claim to the many Puffco Peak glass attachments presented on chest-high white pedestals like the works of art they are. Prices for these pieces ranged from the hundreds into the thousands of dollars.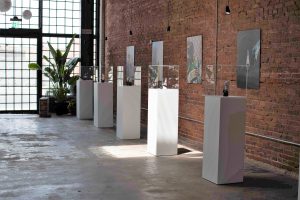 "The raw industrial feel of the warehouse, combined with the gallery glass pedestal displays, sprawling tropical plant and floral arrangements, and minimalist clean white installations of the brand created a unique atmosphere for an event catering to cannabis and glass-art fans," said Puffco in a statement released after the event.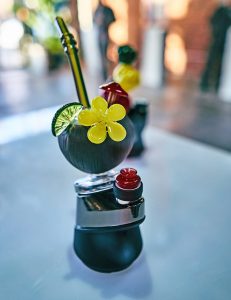 "All of the glass-art attachments displayed their own unique style and artistic vision," added the company. "Ryan Fitt's two pieces featured freehand line work with an art-deco yet futuristic combination. Joachim featured his reaper character, which utilizes the removable sickle and lantern it holds as functional pieces, bringing the art to life. Both were in attendance along with several other glass-artists, including Chow, Slob, Ben David, Spacewalk, Reyna Says, Preston Hanna, Saki, Pakoh, Enuff, and more."
Behind the gallery was a sizeable turf-floored outside area featuring white picnic tables, a DJ, and a fruit cart vendor to complement the sunshine. Throughout the afternoon, a constant flow of people wound their way around the gallery or stood in groups engaged in conversation. A lot of people showed up precisely to get their hands on Puffco products, including new Peaks, which can be hard to find. More than a few broke open their brand-new Peaks, excited to put them immediately to the test.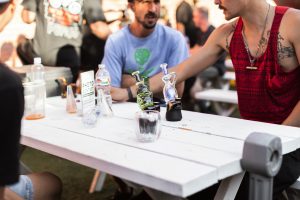 Surveying the scene, Puffco founder Roger Volodarsky said new deliveries are imminent and will solve the current backorder on Peaks. He moved from group to group, an attentive host obviously happy to have succeeded in putting on such a successful event. Indeed, if nothing else, the Puffco art show was a small glimpse into a future in which cannabis, technology, and glass art are expressed harmoniously and beneficially.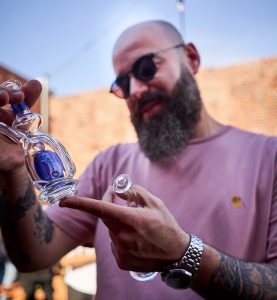 Volodarsky also mentioned he is looking to fill several skilled positions (i.e., industrial designer) and was excited to get the word out that Puffco "is the best company to work for in the industry." More information is available on Puffco.com.
Photos courtesy of Puffco.