Michael "Big Mike" Straumietis is a lot of things to a lot of people—entrepreneur, celebrity, jet-setter, boss, mentor, father—but beneath everything else he's a cannabis grower who cares.
In every sense of the word, Mike Straumietis, founder and Chief Executive Officer of Advanced Nutrients, is a very big man. At about 6'7", he towers over most people, exudes a larger-than-life persona, and surrounds himself with big things—like the Hollywood Hills manse where a three-hour interview bumped into an evening photo shoot with a gaggle of beautiful women. The resulting images became part of a Super Bowl promo he later posted to his lively and popular Instagram account.
But as big as he is, and as big as the company he founded has become, the largest thing about BigMike may be his heart. By every measure, it informs who he is and what he does, and one is hard-pressed to discover any artifice in him. He may be running with the "Dan Bilzerian of cannabis" role the media has stamped him with, but in person the label doesn't fit. Big
Mike, it turns out, has a very big brain that fits comfortably with his big heart.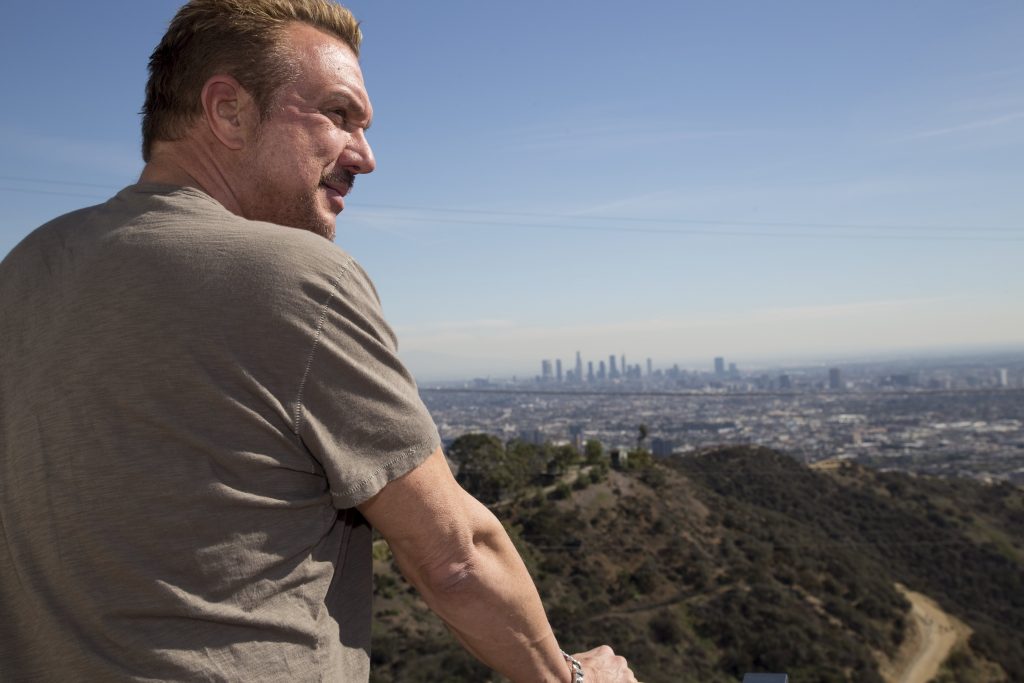 Understanding what makes BigMike tick is necessary to understand what makes Advanced Nutrients a powerhouse company. With sales in more than 90 countries, annual gross revenue over $50 million and counting, and a U.S. market penetration that, according to Mike, results from half of all cannabis growers using at least one of his products, it's tempting to think of Advanced Nutrients as just another soulless corporate entity waiting for an even bigger soulless corporation's buyout. BigMike's rags-to-riches story includes an endless supply of dramatic episodes straight out of a Hollywood movie. With thirty-three years as a grower under his belt, the divorced father of a teen daughter is unique, and he knows it. Having worked hard to achieve success, he refuses to rest on his laurels, instead remaining blissfully dedicated to a lifelong process of self-education and improvement.
"I have a lust for learning," he said. "I love figuring out how to do things the right way in order to avoid the landmines other people have hit." That's not an idle claim. "I've spent $750,000 to $1 million on my library in self-development and business. When guys were watching baseball games and videogames, I was studying. I still study, not as much as I used to, but every single day for at least a couple of hours."
"OF ALL THE HYDROPONIC NUTRIENT COMPANIES IN THE WORLD, WE ARE THE ONLY ONES WHO HAVE THE EQUIPMENT TO PRODUCE OUR OWN BACTERIA."
BigMike takes the process of self-improvement very seriously. "I belong to the highest level of mastermind groups in the world," he said. "They're like twelve-step meetings where groups of businessmen get together and discuss their problems. We talk about anything: marketing, sales, families, wives, all kinds of relationships and how to make them better. We talk about insurance plans for a company, what works and what doesn't. These are guys with much bigger companies than mine—a hundred million, two hundred million dollars—along with a few billionaires. I tell them my situation and ask what they think I should do, and they ask me what I think they should do. It's a great support mechanism that most people don't have."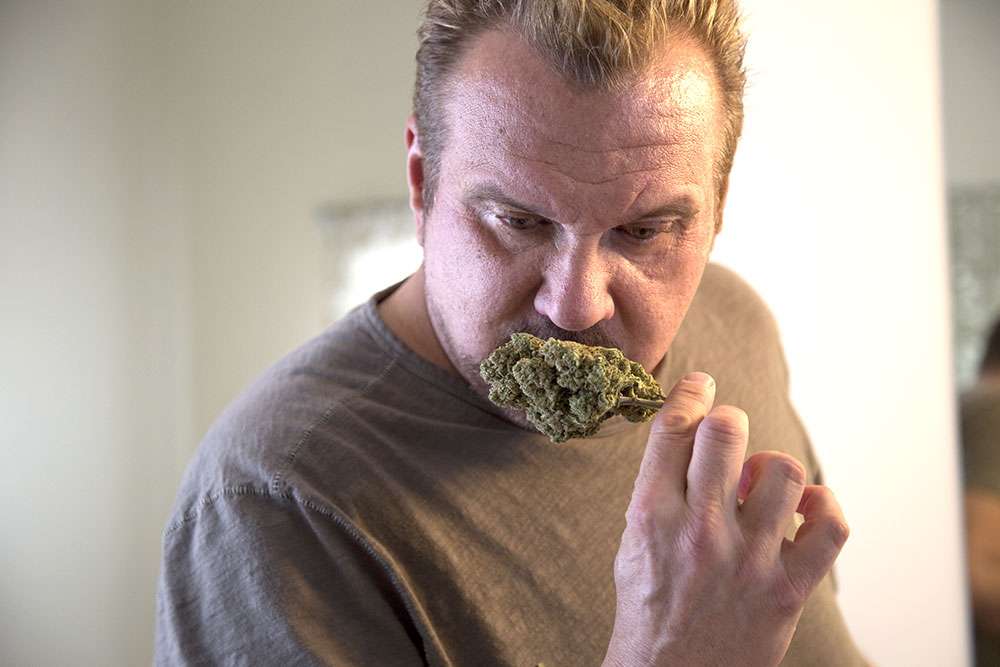 His determination to understand himself is matched only by an innate curiosity about the plant. Cannabis, he insists, is the secret to Advanced Nutrients' success. "The quickest way to put a bad product out of business is great marketing, because you're not going to get the return sales," he said. "Clearly, with Advanced Nutrients, we get return sales. Once someone uses our nutrients, they tend to stay. Why? Because I am the only guy with a nutrient company that is owned by a grower—somebody who went through hell and back. I made these products specifically for cannabis. I tested them on cannabis and took tissue cultures from many different strains of cannabis to figure out what the hell is going on with the plant. I took all sorts of other things and tested them to see what would work and what would not work. Why? Because I care, because I'm a grower, and because I know what is at stake. And I don't cut corners."
He's employed the same philosophy from the beginning. "I introduced the first generation of nutrients sixteen years ago," he said. "We are now on our eighth generation of nutrients. We don't stop. We have the largest [research and development] program in the industry that I am aware of.
"I HAVE A LUST FOR LEARNING.WHEN GUYS WERE WATCHING BASEBALL GAMES AND VIDEO GAMES, I WAS STUDYING."
"Every new generation of our nutrients gets more refined and more in-tune with the plant," he explained. "It's progressive knowledge over years of studying, seeing what works and doesn't work, as well as talking to other growers in our community."
BigMike is convinced the only way to succeed in the cannabis industry is by staying close to the ground. "Our company made really great strides when I started going onto the front lines, and now I'll never leave. It's like putting your hand on the beating heart of the culture," he said, adding, "Often, upper management will stay in their ivory tower, creating a disconnect between them and what is really going on in the marketplace. I see it happening with the new money coming into the industry. They don't understand the front lines, and worse, they think they don't have to. But the biggest mistake any entrepreneur coming into this space can make is not even trying to understand the culture."
The street smarts he developed over the past ten to twelve years are supported by an imposing team of scientists at Sofia University in Bulgaria. "I have twenty-three Ph.D.s who work on all my projects. They are also professors, so I have an army of undergrads working for me."
Advanced Nutrients products are produced in Woodlands, Washington, but the bacteria are made in Bulgaria. "We breed our own microbes, which build the roots, accelerate growth, and protect the plant from diseases," BigMike explained. "Of all the hydroponic nutrient companies in the world, we are the only ones who have the equipment to produce our own bacteria."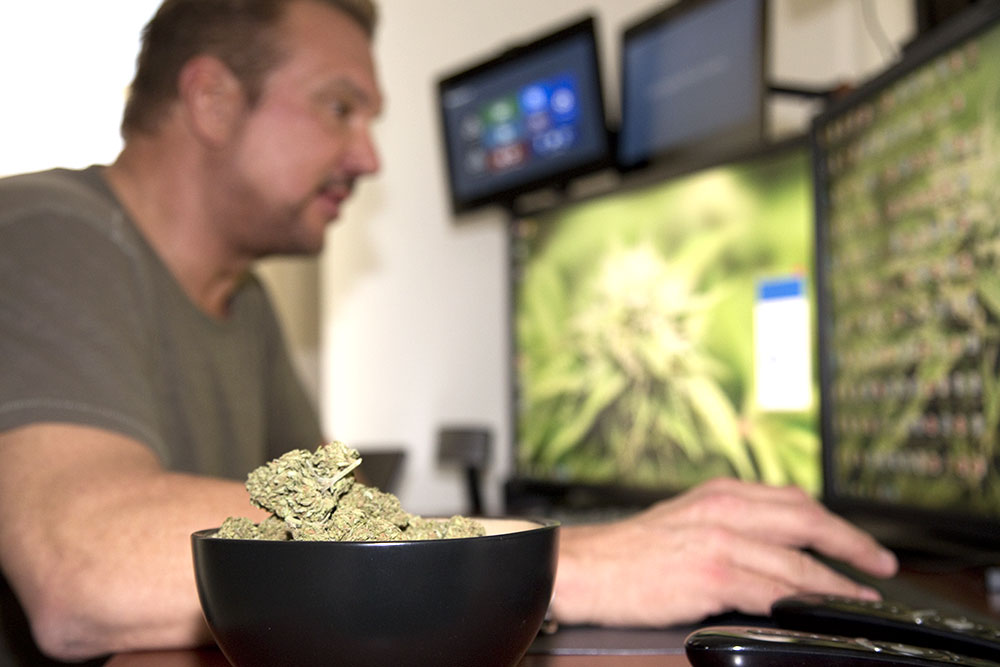 In a very real sense, Advanced Nutrients's years-long accumulation of knowledge acts as a fertilizer for the company's future, which looms as big as its present. "I'm moving from no touch to touch," said BigMike. "We're getting into branding our own genetics and selling it to licensed producers. The company also will be engaging in licensing agreements in different states. BigMike will be the overarching brand for many different products, such as BigMike Blends. I will also open dispensaries in three cities, in high-, middle-, and low-income areas. I want to do my own market research at the dispensary level."
"EVERY NEW GENERATION OF OUR NUTRIENTS GETS MORE REFINED AND MORE INTUNE WITH THE PLANT."
The company is gearing up to build its own stateside lab stateside to support Advanced Nutrients's partners. "In the lab, we will have an entomologist, a biologist, a microbiologist, and a botanist," explained BigMike. "If you use Advanced Nutrients and you are a licensed partner, we will support you for free. When you have a problem with your grow, we will figure it out for you. If you other products, or if you are a hydroponic store, you'll get charged a nominal fee to access the lab."
Advanced Nutrients also is planning to produce its own video content for distribution to both the industry and the masses. BigMike is a diehard marketer who believes his message is almost as important as the quality of his products. As if that is not enough, he remains committed to helping rid Bulgaria of the corruption that keeps its citizens down. Toward that end, he has put his life on the line over the past several years, starting a movement called Political Change Now—"the largest political entity online in Bulgaria"—as well as a political party he had to disavow when "the guy I [worked with] went sideways and joined a violent communist faction."
At one time, BigMike spent nine or ten months out of every year in Bulgaria, but he has scaled that back of late despite his continuing popularity in the country. "I'm not a politician," he said. "I don't want to be Bulgaria's president, prime minister, or anything. I just want to help put the right people in and let them do their thing."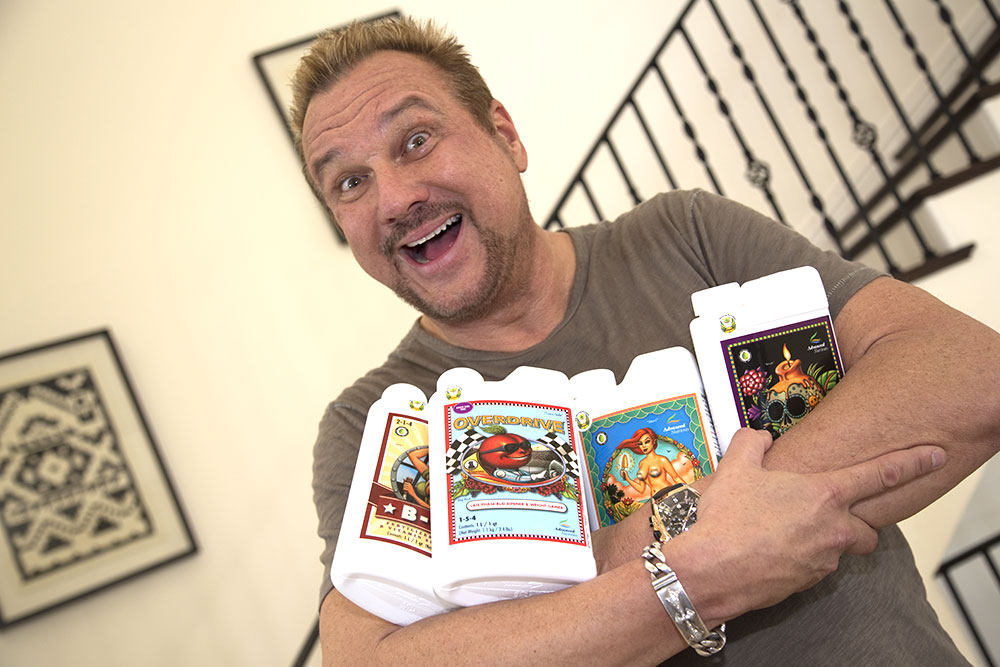 As the cannabis industry matures, and as "big business" waits on the sidelines for federal prohibition to end—at which point the "people who built their brands will be offered stupid money" to sell out—BigMike will be there to oversee Advanced Nutrients's anticipated transition from a $50 million company to a $300 million company. He expects the transition to occur within the next seven to ten years. He may have a crack management team in place, but the company will continue to depend on his vision, and he surely will remain its marketing "face" for years to come. Who better to fulfill any of these roles than the man who started the company?
As BigMike put it, "I have grown weed for thirty-three years, and for sixteen years I've been heavily researching the plant, but I've also been a hydroponics store owner, run a seed company where I did my own genetics, and been in the distribution business. I've done it all and understand all aspects of the space."
All the World's a Stage
We talk with Advanced Nutrients' Chief Operating Officer for European Operations Kevin Flynn about his role with a company whose products are sold in more than 90 countries and counting
mg: What is your current role with Advanced Nutrients? Have your duties evolved?
Kevin Flynn: One of the great things about working for Big Mike at Advanced Nutrients is his philosophy regarding internal development of the team. I started my career with Advanced as the global security manager and now act as the COO for European operations, where I oversee all functional business units on the continent and ensure they tie together in such a manner that our success is based on a measured plan.
Why would a company like Advanced Nutrients need a global security manager?
Our global security department contributes on multiple levels within the corporate setting, from ensuring our clients receive only genuine Advanced Nutrients products to monitoring legislative changes globally to securing our production facilities and distribution hubs. Our security team is continually involved and married to the business development functional unit, collecting and analyzing raw data that is disseminated back to the executive for the purpose of planning overall strategy that ensures we continue to be the gold standard within our domain
What are you most excited about in terms of the direction of the cannabis industry and Advanced Nutrients' role in it?
The most exciting thing about our industry is the current, often obscure and archaic, legal obstacles that are being removed as mainstream society moves to the general acceptance of legalized marijuana within the communities we live and work in. Advanced Nutrients will continue to contribute to this movement in all possible aspects, and I am very, very proud to work for a company that has taken such a strong stand. Big Mike has been there from the very beginning, and it is a true honor to follow his call to action. This is more than selling nutrients; it's standing up for something we all believe in. Our true power, I think, as a company is we do not hide behind cucumbers, tomatoes, and lettuce. We have flown our flag high and proud and will continue to do so in the future, regardless what the situation may be.
What is it like to work with Big Mike? Is there a definable "culture" at Advanced Nutrients?
Working directly with Big Mike is a real pleasure, as he consistently creates a supportive environment that is dedicated to creativity and excellence. The team is encouraged to develop, collaborate, and move forward in a setting that rewards positive thinking and forgives strategic errors that sometimes occur in business. Our overall culture is one that invests in each individual and understands the provision that we are never finished with learning and developing ourselves both as people and as team members.
Anything else you want to add about the company or the industry?
The entire team looks forward to further consolidating our reputation as the global leader in cannabis-specific nutrients by supporting our clients, growers, and end users with the absolute best current and upcoming product set possible. We also look forward to closely examining the industry in order to seek out brand opportunities from a collaboration, investment, and mutual support perspective.
"OUR TRUE POWER, I THINK, AS A COMPANY IS WE DO NOT HIDE BEHIND CUCUMBERS,TOMATOES, AND LETTUCE."
—Kevin Flynn, COO, European Operations