Home
Authors
Posts by Anthony Franciosi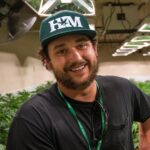 Anthony "Ant" Franciosi
is an honest-to-goodness farmer whose fingers are as green as the organic cannabis he grows. He is the proud founder of
Honest Marijuana
, an all-natural, completely organic marijuana growery in Colorado.
Before marijuana started becoming almost gentrified, the market price of weed was set by the person selling it. They based their price largely on...
Like every other consumed product, organic cannabis is riding a wave of interest from consumers seeking a clean and sustainable alternative to the mainstream....